Anyone who's tried to lose weight knows that good nutrition matters a lot—even more than your exercise routine. As the authors of a recent editorial in the British Journal of Sports Medicine wrote, "You cannot outrun a bad diet." In other words, even a calorie-torching fitness plan needs to go hand-in-hand with healthy eating or you won't see the results you want.

But that doesn't mean you have to restrict yourself to bland "diet" foods. We asked seven women who've lost 50 pounds or more to share their go-to healthy meals, and the results were surprisingly appetizing—even bacon and chocolate make a cameo! Here are the foods that helped these women find long-term success.
JODI FRIEDMAN
Jodi, 44, had struggled with her weight due to polycystic ovary syndrome (PCOS) and insulin resistance. But after a nutritionist helped her devise a low-carb, high-protein eating plan, she lost 70 pounds and is now training for a half marathon. "It's important to find a nutritionist who understands your health issues and supports your needs," she says.
A typical day's meals:
Breakfast: a protein bar with 20 grams of protein or more, plus a banana on workout days
Lunch: tuna salad with a side salad of mixed greens and tomatoes with aged balsamic vinegar
Snack: cucumber slices with a tablespoon of hummus
Dinner: salmon or crockpot chicken with a side of spinach or avocado
Dessert: kid-sized cup of frozen yogurt
JENNIFER FINNEY
Motivated by a warning from her husband's doctor, Jennifer, 41, and her hubby overhauled their eating habits together. "We went from a diet of processed foods, fast food, and dining out two or three times a week to a whole-food, plant-based diet," she says. "We went all-in from day one, and the weight started melting off." To date, she's lost 80 pounds and now works as an online health and fitness coach.
Breakfast: rolled oats with almond milk, peanut butter, and pure maple syrup
Post-workout snack: green smoothie with spinach and frozen fruit
Lunch: kale salad with hummus and rice vinegar, topped with fresh cucumbers, red peppers, and chickpeas or lentils
Afternoon snack: apples with peanut butter
Dinner: a Pad-Thai inspired dish using spaghetti squash instead of pasta
After-dinner snack: a piece of fruit
PETRINA HAMM
Petrina, 43, started the Atkins diet because her sister was interested in the plan. "She asked me to do it with her for support," she says. Petrina eventually modified her diet for more balance, and has lost a total of 100 pounds. She says the key has been "taking it one day at a time. Too many people devote too much focus to the end game."
A typical day's meals:
Breakfast: a healthy "cheese Danish"—made by mixing egg with cream cheese, liquid Splenda, and a dash of cinnamon—along with bacon or sausage
Lunch: salad with full-fat blue cheese dressing, bacon bits, and diced chicken
Dinner: steak with steamed broccoli and butter
Snack: homemade sugar-free peanut butter cup (made with baking chocolate, butter, liquid Splenda, and peanut butter)
WHITNEY HERRINGTON
The approach of a milestone birthday motivated Whitney, 29, to get serious about her eating habits. "I had been overweight my whole life, and I was determined not to go into my thirties fat!" she says. By following a low-carb, high-protein diet—with some extra carbs added in on workout days—she's lost 65 pounds so far.
A typical day's meals:
Breakfast: fruit smoothie with some spinach or kale and a scoop of protein powder
Snack: granola bar
Lunch: jerk chicken with homemade cauliflower rice
Dinner: baked chicken with broccoli and brown rice
Snack: ¼ cup of peanuts or cashews
ERICA HOUSE
Erica, 32, found that a little patience goes a long way. She lost 60 pounds over the course of two years by cutting out fast food, sugar, and liquid calories like soda and alcohol."The weight came off slowly, but it's stayed off," she says. "I went from being obese, binge drinking, and chain smoking to a three-time marathoner, yoga instructor, and online personal trainer."
A typical day's meals:
Breakfast: zucchini oatmeal
Snack: fresh fruit
Lunch: homemade burrito bowl
Snack: a scoop of peanut butter
Dinner: protein smoothie made with a frozen banana, a cup of spinach, chocolate whey powder, almond milk, ice, and a touch of honey
ANNE JONGLEUX
Anne, 56, tried a few tactics before finding what worked best for her. She started by weighing foods and counting calories: "That was great for helping me readjust my ideas of portion size, but impractical for a daily lifestyle," she says. Last year she went on an elimination diet to identify food intolerances. Now she follows a "mostly Paleo" plan of lean proteins, healthy fats, and fresh produce, and she's lost a total of 80 pounds.
A typical day's meals:
Pre-workout breakfast: coffee and a banana or two dates covered in coconut
Post-workout breakfast: coffee, a bowl of fruit, and two poached eggs
Lunch: an apple with two tablespoons of almond butter and a few sticks of celery
Snack: a stalk of bok choy and a carrot
Dinner: Cobb salad with a few tweaks (turkey instead of ham and bacon; hold the cheese and croutons; oil and vinegar on the side)
Snack: cucumber slices or pickles
CHRISTIAN OHONBA
Christian, 30, says she stopped using food as a reward and started thinking of it as fuel for her goals. "I live with the philosophy that weight loss sparks greatness in all areas of life," she says. Though she was scared to look at a scale before starting her weight loss journey, she estimates she's lost around 70 pounds by tracking calories and journaling her eating habits.
A typical day's meals:
Breakfast: salmon and potato hash
Snack: pineapple dairy-free yogurt
Lunch: burrito with ground turkey, black beans, and bell peppers
Snack: tuna packet
Dinner: steak with broccoli
SOURCE: WOMEN'S HEALTH MAGAZINE
Shape, tighten and lift your butt in just eight moves with this focused resistance workout from fitness model Janine Horsley.
Warm-up (not pictured)
This dynamic warm-up will prepare your body for key moves. Consider it an investment.
2–3 minutes: (20 seconds each)
Begin with high knees, running in one place for 20 seconds. Followed with butt kickers, with heels kicking back to touch your butt, for 20 seconds. Lastly, fully extend arms and legs in a marching position. Perform jumping marches by jumping in sequence with arms and legs forward and back.
THE WORKOUT
1. Dumbbell step ups (10 to 20 lbs)
3 sets x 12–15 reps (20 seconds' rest)
Start movement holding dumbbell at chest level with elbows tucked in. Place one leg on a platform or bench and thrust up on to bench. The key to this movement is pushing off with the opposite toe on the floor before lifting and keeping weight on the heel on the bench when stepping down. Perform all the reps on the one side before switching legs.
2. Kettlebell Overhead Squats (10 to 15 lb)
3 sets x 12 reps (30 seconds' rest)
Start movement holding a kettlebell with both hands at waist level. When you are ready, engage core, lift kettlebell above your head, and squat parallel to the floor. The key to this movement is engaging the stomach and locking the arms overhead and exhaling as you power up through the squat. Perform with toes slightly pointed out, shoulder-width apart. Keep the arms fully extended above your head until you have completed all the reps for that set.
3. Kettlebell Crossover Reverse Lunge (10 to 12 lb)
3 Sets x 10 reps (30 seconds' rest)
Start movement holding a kettlebell at chest level with both hands. Be sure to keep elbows tucked at sides. As you begin, take one leg back into a reverse lunge position in a 45-degree angle while maintaining an upright squat position. The key to this movement is an upright position and slowly crossing your leg in a reverse lunge while dropping the knee in a straight line down. Be sure to cross slowly to maintain your balance throughout the movement.
4. Dumbbell Stiff-Legged Deadlift (20 to 30 lb)
3 sets x 12 reps (30 seconds' rest)
Start movement with dumbbells at waist level. Maintain a good posture with a slight bend in the knees and slowly lower the weight to the front of your calves, and return to the top of your thighs. The key to this movement is a flat back and slow and steady lowering of the weights.
5. Dynamic Speed Skaters (5 to 10 lb)
3 sets x 45-to-60-second intervals (with 30 seconds' rest)
Start movement with one foot forward and one foot back. As you start in motion, hop into a side lunge position, then spring off and do the same to the other side. The key to this movement is not speed, but balance and coordination.
6. Hamstring Ball Bridge (Body weight)
3 sets x 30-second intervals (with 20 seconds' rest)
Start movement lying flat on your back with your heels resting on the top of the balance ball. As you push down on the ball with your heels, pull the ball towards you and lift your hips straight up, and then slowly bring them down and let the ball move back to the starting position. The key to this movement is keeping your shoulders flat on the ground and squeezing the glutes as you lift the hips. Slow and steady is the game.
7. Cable Kickbacks – 2 sets x 12–15 reps each leg
(20 seconds' rest)
Attach the ankle loop to your ankle. Maintain an upright position with your upper body. Grab the sides of the cable machine, and thrust your leg back, no higher than your waist level, and slowly bring it back with a slight knee bend forward to finish. The key to this movement is slowly squeezing the glutes as you thrust the leg back.
8. Smith Machine Standing Calves 3 sets x 15–20 reps 
(20 seconds' rest)
Start movement with Smith machine bar on your shoulders. Stand on a platform or step to raise and lower your calves. The key to this movement is a slow and full stretch on your toes and lower your heels to get the full benefit of the stretch. It is not about the weight, more the stretch and a slight pause at the top of the movement.
Waist trainers are HOT these days! With so many celebs jumping on board the craze, waist training has taken a front seat all over social media and TV.
Now, if you know me, you know that I am against waist training. As a trainer,  I am a BIG advocate for using science-backed methods like strength training and nutrition to cinch the waist.
With that said and after many of months of hearing about waist trainers,  I've decided it's time to demystify the hype around these things!
The Truth About Waist Trainers: What Are They?
Waist trainers are essentially girdles made of fabric worn around the torso for long periods of time (up to 24 hours of each day). Exactly as their name implies they are meant to "train" your waist so it "shrinks and reshapes". The idea is to pull the waist trainer in every few days in hopes of reshaping your waist into a smaller version of it. Waist trainers are typically made of heavy fabric or leather… some come with laces that are pulled in tighter every few days.
These days, you cannot scroll through your social media without seeing at least one post about "waist trainers".  Thanks to celebrity endorsements, waist trainers have become increasingly popular and trendy!
What's The Hype And Is It Too Good To Be True?
Waist trainers promise to "cinch the waist", give you an "hourglass figure", "shrink your waistline" and get rid of belly fat… all without the hard work of exercising or dieting! WOAH!!! Sounds AWESOME right? Wear a fabric thing around your waist real tight and get a flat stomach? Sign us up! I am SOLD!
The truth is waist training can permanently shift your organs!
Unfortunately, the hype around these products are very much, well, hyped up and too good to be true! Let me tell you, it's next to IMPOSSIBLE to shrink or reshape your waist WITHOUT a proper nutrition and exercise program! Or without some sort of surgical intervention! Why? Because the science simply does not add up!
The human body has its own natural girdle… and you guessed it, it's called MUSCLE! Our organs are surrounded by tissue, including the transverse abdominus, the rectus abdominis, the internal and external obliques, erector spinae and lumbar muscles in the lower back. There are lots of hard muscles at work keeping us upright and everything together!
It just so happens that we also have another type of tissue called fat covering the muscles. You cannot change the shape of your torso or waist simply by wearing a piece of fabric around it. Nor can you reduce the amount of fat cells or fat tissue in your body by wearing a piece of very tight fabric. Science just doesn't work that way!  In fact wearing such things can be dangerous as it suffocates your organs and can cause heat stroke, and a permanent unhealthy shift in your organs. In order to shrink your fat cells, you need to build lean tissue to stimulate your metabolism and adapt a healthy eating regimen that reduces fat tissue!
Wearing waist trainers also undermines your muscles as you inherently start relying on it to keep your core engaged as opposed to properly engaging your abdominal muscles when working.
Is There A HEALTHY Way To Cinch Your Waist?
My best advice for those of you looking to cinch in your waist is to start exercising using a solid plan (like the Elite Fitness Pros programs) and eat well! Learn how to properly engage your core muscles! Adapt a healthy nutrition plan and last but not least be CONSISTENT! It's that or permanent surgical intervention like removing two ribs from torso!
Simply put, forget the hype around waist trainers! Choose to hit the gym with a good workout program and eat well … soon enough you WILL see a smaller waist!
Target Body Part:
Full Body/Integrated
Equipment Needed:
Resistance Bands/Cables
Step 1
Starting Position:
With a partner, stand facing one another each with one handle or end of a resistance band.
Step 2
With both partners keeping the arms straight, one partner will lower into a squatting position and bring the arms between the legs while the other partner stands with arms extended overhead.
Step 3
Keeping the band taut at all times, partners will simultaneously switch positions so that one is always pulling up on the band and one is always pushing down on the band.
SOURCE: AMERICAN COUNCIL ON EXERCISE
Kick-start your day with this delicious breakfast recipe by January 2017 cover model Tiffiny Hall. 
Ingredients (Serves 2 // Prep: 5 min // Cook: 2 min)
1 tbsp tahini

1 tsp honey

1 tbsp water

100g fresh ricotta

¼ tsp ground cinnamon

1 tsp chia seeds

2 slices wholegrain (or gluten-free) bread

1 banana, thinly sliced

⅓ punnet strawberries, hulled and thinly sliced

¼ cup blueberries
Method
1. In a small bowl, combine tahini, honey, and water together until smooth and set aside.
2. Combine the ricotta, cinnamon and chia seeds to form a creamy spread.
3. Toast wholegrain bread in toaster for 1–2 minutes or until golden.
4. Lay toast flat, spread with ricotta mix then top with fresh fruit. Drizzle tahini sauce over the top and serve.
SOURCE: WOMEN,S HEALTH & FITNESS MAGAZINE
Many people try to reverse the effects of aging or keep it at bay by eating a healthy diet, exercising and practicing self-care. The laws of nature, however, have different plans for aging bodies.
Joints, in particular, can become sources of pain and immobility. As we age, joints become less flexible and more brittle. Cartilage can rub away and calcification can occur, especially in the shoulders, which can bring on bone spurs.
Degenerative diseases such as osteoarthritis can be very painful and lead to a greater loss in mobility and overall health.
The spine is comprised of many vertebral joints, and spinal disc compression can be the source of back pain for many people. However, improving posture through a yoga practice can help keep the spine healthy and mobile. In fact, yoga is a great way to alleviate the stiffness and pain associated with joint aging and arthritis. Gentle, mindful movement aids in relaxation responses in the body and can be an effective way to reach deep into the crevices and corners of the joints.
Ellen Saltonstall, a yoga teacher with osteoarthritis in her hands, one foot and lower back, attributes her daily 60- to 90-minute yoga practice to keeping her agile. "I find that a daily practice helps the most. When I skip a few days, I feel like I've aged 10 years," she told Yoga Journal in 2009.
The research appears to agree with her. A 2015 study published in the Journal of Rheumatology found that practicing yoga increased the mood and physical health among sedentary adults with waning joint health. Practiced three times per week, yoga improved their pain and energy levels as well.
FINDING THE RIGHT YOGA
Of course, not all yoga classes are designed to be easy on aging joints. More intense styles of yoga, such as Ashtanga and vinyasa, are not built for beginners or those with aging joints. Instead, urge your clients to try beginner, gentle or hatha yoga classes. Yin yoga, which incorporates long holds of poses, often supported by props, can help build musculature around the joints that will help increase support for those joints. Urge your clients to talk to the instructor before class to explain their condition and ask for modifications if any pose is painful. Always encourage clients to consult with a doctor before taking on a new movement activity.
THREE POSES TO EASE JOINT PAIN
These three poses are generally safe for most individuals and can help ease joint pain:
KNEELING LUNGE (FOR KNEES, ANKLES, AND HIPS)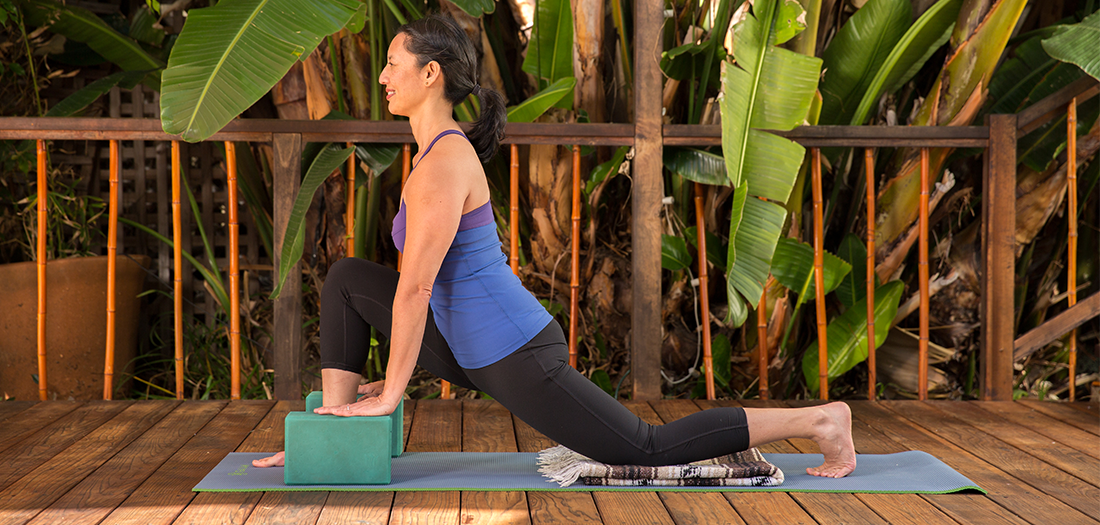 Lunges help to build muscles in the legs that support the knee joint. Kneeling in the lunge provides an opportunity to get deep into the hips, building stability around the outer hip. The pose also requires balance, so it builds strength in the smaller muscles supporting the feet and ankles.
Begin on hands and knees and step the left foot between the hands. Make sure the knee is stacked above the ankle and the foot is pointed straight ahead. Bring blocks underneath the hands and lengthen the spine. If there is any discomfort in the back knee, place a folded blanket or towel underneath or double up the yoga mat. Inhale and lengthen the spine, lifting from the crown of the head and extending through the chest. Exhale and sink the hips toward the floor. Continue to breathe using this pattern of extension and deepening for at least 10 breaths. Repeat on the other side.
SEATED TWIST (FOR HIPS, SPINE, AND SHOULDERS)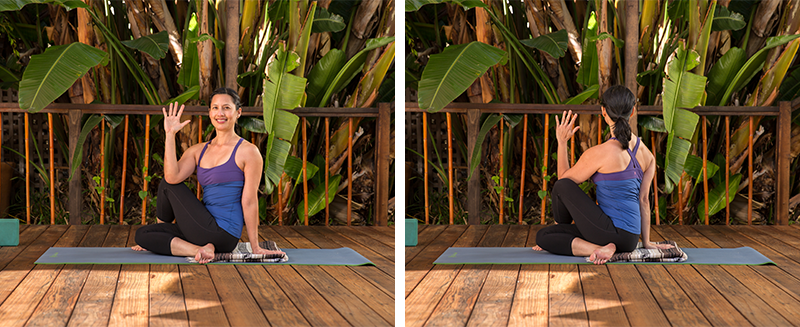 All twists are beneficial for spinal health. This one incorporates stretching and strengthening for the shoulders, upper back, and hips.
From a comfortable seat, extend both legs straight in front of you and draw the fleshy part of the buttocks away to sit evenly on the sits bones. Bring the left leg across the right so the left foot is planted firmly on the outside of the right thigh and the left knee is in the air. Stay even on both sits bones. Bend the right leg so the right heel comes outside the left hip. If this creates an uneven stance in the hips, re-extend the right leg. Inhale and lengthen the spine, as if lifting up out of the hips. Exhale and twist to the left, keeping the hips even and the spine long. The left arm can come to rest behind the left hip, and the right arm can come on the inside of the right knee or anywhere that feels safe and comfortable. Continue to breathe deeply, following the pattern of extension on the inhale and gently continuing the twist to the right on the exhale. Continue for at least 10 breaths, engage the core to come back to center and switch sides.
DOLPHIN POSE (FOR THE SHOULDERS AND SPINE)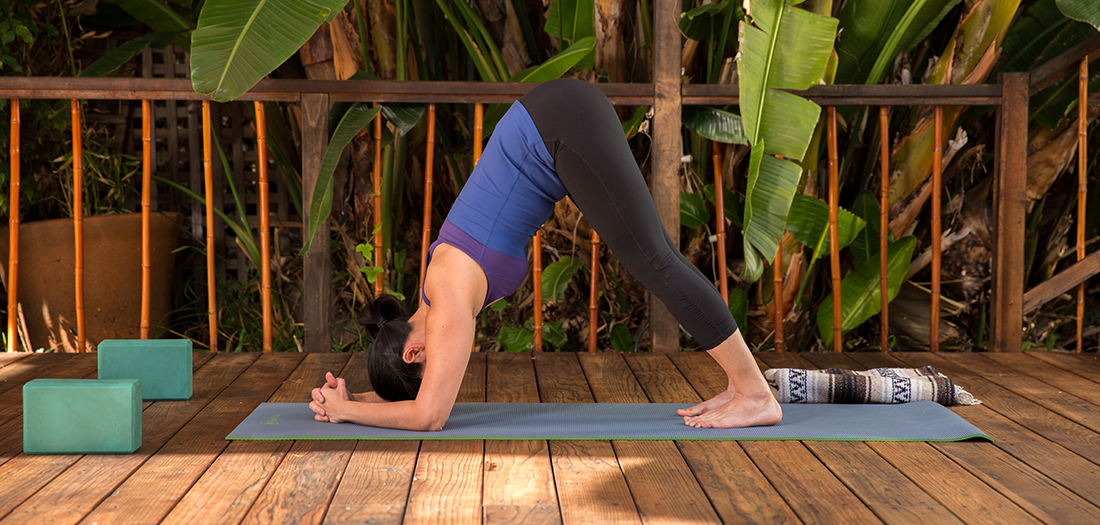 Dolphin pose is great for building strength in the shoulder girdle, which is key to supporting the complex structure of the shoulder joint. It can be challenging to hold this pose for a long time at first, but as your client builds strength and flexibility in the shoulders, it will start to feel easier. It is also a slight inversion, which releases tension in the spine.
From hands and knees, come onto the forearms and clasp the hands together. Tuck the toes and lift the hips to come into an inverted "V" shape—just like downward facing dog, but on the forearms. Keep the head off the floor and look to the middle of the mat. Pause here and breathe, focusing on pressing the forearms into the floor, relaxing the neck, keeping the back long, hips elevated, core engaged and heels reaching toward the floor.
SOURCE: American Council of Exercise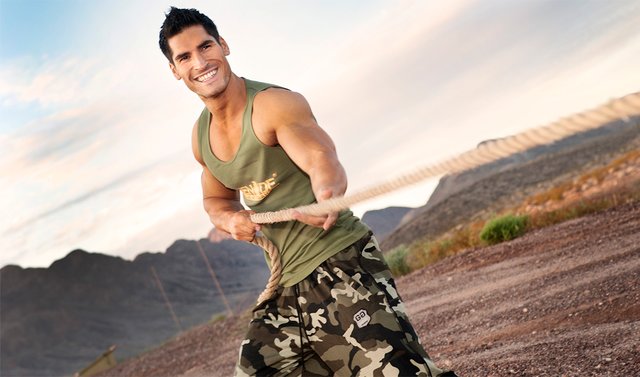 With warm weather approaching, the call for an effective shred has never been stronger. Use these 6 tips to ensure you're six-pack-ready for summer!
Winter's winding down, and everyone's favorite seasonal superpower—the ability to hide excess pounds under a warm sweater—is fading fast. In fact, the summer sun will be high in the sky sooner than you might think, which means shirtless weather is coming in hot. Don't get caught unprepared! If you want to reveal a shredded six-pack come summer, now's the time to plan and prioritize your weight-loss goals
Here are six of my tried-and-true get-lean strategies to help you prepare to bare all when the sun comes out to stay.
1. Combine Cardio Styles
Most people default exclusively to high-intensity interval training, or HIIT cardio when it comes to getting lean. After all, the intense metabolic demand HIIT places on your body is like nothing else, and when done correctly, can take several days to recover from. What that means for you is a heightened calorie-burn both during the workout and as you recover.
I like to do my HIIT in short, sharp bursts, performing 30-second sprints on the treadmill or rowing machine, followed by 30 seconds of rest, for 10-15 rounds. But I don't stop there. I actually follow my HIIT with 15-20 minutes of low-intensity cardio to help remove metabolic byproducts that accumulate during high-intensity exercise, which allows my muscles to recover quicker and gets me ready to train all over again.
This approach combines HIIT's fat-burning ability with the recuperative benefits of low-intensity cardio, basically giving you the best of both worlds. I even like to add a little extra steady-state (because it doesn't demand much in terms of recovery) when I want to burn even more calories.
2. Balance Your Reps And Volume
A lot of people assume that in order to get shredded, you need to lift more reps per set and really "feel the burn," but this isn't necessarily true. Your nutrition and cardio should do the shredding for you, and your lifts should work to maintain your muscle mass and strength. To that end, I stay in the range of 6-8 reps for all my lifts when getting lean. This allows me to keep my muscles full and strong, potentially add a bit of new size, and hit an ideal short-term hormone release.
But just because I use relatively low reps does not mean I skimp on volume! I do 4-5 sets of each exercise rather than the standard 3-4, which increases the overall time under tension for each body part, burns more calories, and contributes to the overall fat loss. I also front-load my workouts with at least two compound movements, which require a lot of energy. Once I'm depleted, I finish up with a few isolation movements.
3. Advance Your Training
When it comes to shredding, I love implementing giant sets—basically, circuits for one body part or multiple exercises performed back to back—especially for my legs, which respond well to high-rep, high-volume work.
I usually hit two compound exercises in a row, such as squats and leg press, then hit my legs immediately afterward with isolation exercises like leg extensions and curls. This forces my muscles to work 3-4 times as hard and 3-4 times as long per set compared with a straight-set format.
The increased time under tension caused by giant sets leads to more muscular exhaustion, a greater energy demand, and more fat burned post-workout as those muscles try to recover.
I'm also a huge fan of forced reps—when your partner helps you lift beyond what you could lift alone—for leaning out. Forced reps push you further than you would normally go on your own, driving adaptation and producing an additional calorie burn that a straight set does not provide.
I recommend choosing a weight where you fail after about 6-8 reps. Once you feel like you can't push out even one more rep, have a partner help you squeeze out 3-5 forced reps with the same weight. I guarantee you'll push yourself to limits you never thought possible!
If you're training solo, try using the double-rep method (DRM) for cutting. Set yourself up with a weight at which you fail at 8 reps. Do a set of 8 with that weight, rest for 5-8 seconds, and then do another 16 reps broken down into several "mini sets."
Use the rest-pause technique—performing as many reps as you can, and then taking short, 15-second rests—to get through that second double set.
DRM training really pushes the envelope of both your pain threshold and your muscular endurance. Oh, and if you haven't noticed the theme yet, it also helps you torch more calories!
4. Manipulate Your Macros
One of my favorite quotes is "what gets measured, gets managed." Carefully planned nutrition is everything when trying to cut, and knowing how to manipulate your macronutrients—protein, carbs, and fat—is essential when building your get-lean plan.
Most people choose to cut carbs in order to get lean, but this is where I differ. I like to keep my carb intake relatively steady year-round to keep my energy high, which allows me to work out harder. To trim some fat from my body, I simply trim some fat from my diet.
Usually, my fat intake is about a half a gram per pound of body weight, which comes out to about 90 grams of fat daily for me. As I get closer to my goal date, or the date on which I want to look my best, I taper this number until it reaches about 40 grams a day.
This simple change gives me just enough of a caloric deficit to burn fat while still leaving me with enough calories from dietary fat to power my essential bodily functions. To compensate for this deficit, I also typically bump my protein up from 1.3-1.5 grams per pound of body weight, which keeps my hunger and cravings at bay and prevents catabolism, or muscle breakdown.
5. Keep Records
If you don't know where you've been, how do you know where you're going? I'm a bit of a data geek, so I love to keep detailed records of my calories and macronutrients from every diet and show prep I've ever done. This gives me plenty of information to compare and allows me to assess the best plan of action to meet my next goal based on my current condition.
When mapping out your plan, give yourself plenty of time to make adaptations. For example, I am usually not more than three weeks out from photo-shoot conditioning, but if I want to step it up and really get stage-ready peeled, I give myself 10-14 weeks. Nothing good comes from rushing the process.
No matter what your timeline, write down everything as you go through that process: what you ate, how it affected your physique, even if it did anything to your body's level of detail or your overall mood. This way, next time you want to lean out, you'll have an accurate and exact accounting of what worked and what didn't.
6. Supplement Smart
Getting lean is no easy task, and supplementing your nutrition can help with cravings as well as energy levels. I love to have a protein shake with my oats after every tough workout to kick-start recovery, spur muscle growth, satisfy my sweet tooth, and help me stay full.
I also take a multivitamin with Omega 3 and 6 daily to ensure I get all my essential fatty acids and micronutrients (vitamins and minerals) that could be missing from my whole-food diet. And, when it comes to traveling, I always carry a protein bar to make it easy to sneak in meals, even when things get busy.
SOURCE: BODYBUILDING.COM