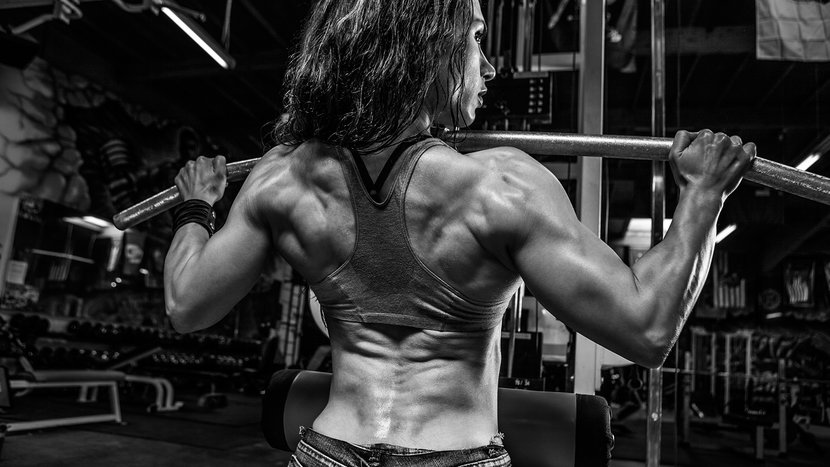 The muscle you have now was earned one way. The muscle you don't have yet might play by a different set of rules entirely. Here's what they are!
You may have heard the term "muscle memory." What this means is that once you've properly trained your muscles to grow, they'll readily regrow after a cutting phase or even a lengthy break due to life circumstances. Muscle, in other words, is smart. If it's been to a certain level once, it can find its way back.
However, when you're trying to grow or increase muscle mass beyond where you've been before, it's more challenging. To make these gains, it helps if you better understand how muscles "think." Too often, performance and physique athletes emphasize random, challenging training protocols without focusing on how and why muscles grow.
Once you understand the eight rules for building muscle tissue and incorporate them into your training program, you'll see results you'll never forget. I guess you could say that's another definition of "muscle memory."
1. Change The Little Things Often
No matter how effective a training style is, your body learns fast and stops further growth. Even negative reps—which spur growth by causing lots of damage to muscle fibers—can quickly become ineffective after just a few consecutive workouts.
When you perform the same workout over and over, muscle mass adapts to your training, and it eventually plateaus, which is another way of saying that it stops growing. Many people think they are "successful" if they crank out one more rep with a given weight, or lift 5 more pounds than they did the time before. But if that's the only approach you use, it's not efficient.
How to do it: Change up the variables from one workout to the next: rep ranges, time under tension, the weight you use, rest periods, picking similar-but-different exercises, and even duration of rest between sets. Always let your muscles know the overall goal, but keep them guessing about the details.
2. Give Your Muscles Space To Adapt
This rule may seem to contradict the previous one, but it's a necessary companion, a yin to the yang. You must stress muscle tissue to trigger growth, but then you must allow it to heal. After all, it's the healing process that ultimately creates the growth.
Don't leave this part up to chance or wait until you're burned out. Whether you're a performance, strength, or physique athlete, you must build recovery phases into your training. Otherwise, you'll never maximize muscle growth.
How to do it: No single body part should be maximally stressed more than 2-3 times a week—and three is an exception. Nor should you hammer a particular muscle group for more than about six weeks. Your whole body needs to recover from body-part-specific training too. Include at least one full rest day at least once a week. Every 2-3 months, take off an entire week.
3. Don't Reinvent The Wheel When It Comes To Nutrition
While time is the greatest healer, proper nutrition is one of the most important factors in adding muscle tissue. What you eat provides the raw materials for growth.
I could provide you with some new-fangled, overcomplicated approach "guaranteed" to add 10 pounds of flesh in a week, but I won't. Just get enough of the right stuff, at the right time. It's not rocket science.
How to do it: The theory of the "anabolic window" has suffered some cracks in recent years, but post-workout is still as good a time as any to consume a shake with fast-digesting protein like whey protein. Also, consume plenty of healthy nutrients through multiple meals throughout the day. My recommendation for growth is 1.5 grams of protein per pound of lean body weight per day—every day. Don't miss a day.
4. Change The Big Things Every Once In A While
Muscle tissue is smart. It figures out what you're trying to do pretty quickly. You can change the little things daily while keeping the big idea the same, but after about 6-8 weeks, the muscle will catch on. This is the point of diminishing returns, but too many people coast right by it and keep coasting through workouts they could do in their sleep.
This is why it's crucial to make a significant shift in your training program every 6-8 weeks or so. It's hard, because you'll have to change and actually learn new things, but it's definitely the best way.
How to do it: Go from a muscle-growth phase to a strength phase, to a ripping-up phase, to a cross-training phase, or to something else entirely. Just make sure to change the protocol every 6-8 weeks or so.
5. Perform Free-Weight Exercises First
One of the ways to encourage growth is by forcing your muscles to deal with the multiple demands imposed by free weights. Not only do you have to lift the weight, but you also have to stabilize it with muscles other than the prime movers of the lift. Stabilizers are the often-tiny muscles that help keep your joints strong and help prevent damage to tendons and ligaments. When you train with machines, you lose much of this stabilization component.
How to do it: After your warm-up, start your workout with free-weight movements. This is the most important work you'll do. Machine work can come afterward to add some volume and meet specific goals.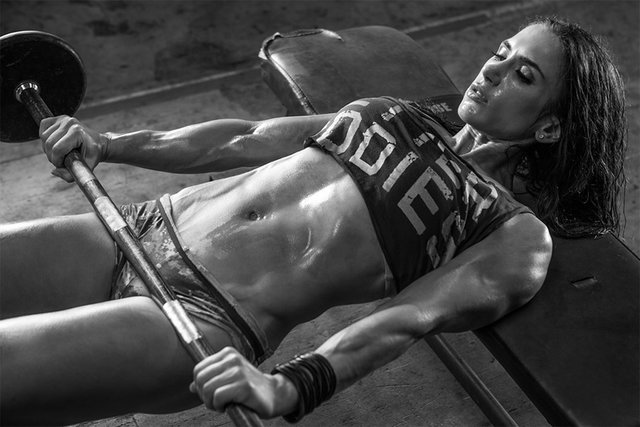 Yes, barbells are harder to control than machines. This is no accident. And it's exactly why you need more free weights in your program.
6. Focus On Form Above All
Your muscles have friends called tendons and ligaments. You may only think about these guys when they're complaining, but their importance goes beyond avoiding injury. Your tendons must be healthy if you want to apply proper stress to muscle tissue. You can build muscle with sloppy form, but your connective tissues will eventually cry uncle, interrupting your relentless quest—and painfully so.
Your goal is to create stress to muscle tissue that can be repaired in a day or two—not to cause so much damage that you get injured. When you perform free-weight moves with proper form, you're strengthening, these crucial support structures rather than damaging them. That helps lead to greater muscle growth.
How to do it: Don't assume your form is perfect. It probably isn't. Plenty of people think their squat is just fine when…yeesh. Have someone take a look, and prepare yourself for criticism.
7. Know That The More You Have, The Harder It Is To Add
Muscles grow more slowly—much more slowly—than you probably desire. More bad news: Once you've added a significant amount of muscle tissue, it becomes even more challenging.
On the other hand, that's what makes working out so amazing. There are no shortcuts—or at least no legal ones. You need to pay your dues and put in your time, and then you can wear that added muscle like the badge of honor it is.
How to do it: Have patience, and stay disciplined. Keep going to the gym and performing challenging routines. Keep changing up the variables of your workouts like clockwork. When you start rushing, that's when you'll often suffer an injury that will set you way back. It's virtually impossible to train your entire life without getting injured, but you can avoid most injuries by training smart.
8. Embrace Muscle-Building As Health-Building
Many people will tell you that spending time in the gym to build muscle mass is superficial. Sure, having defined arms and strong legs make you feel great in the mirror or while you strut in your favorite outfit, that doesn't mean they're not important.
In addition to the health benefits you gain from the training process itself, simply carrying more muscle is healthy. Muscle tissue revs up your metabolic rate, helping your body prevent fat storage, and it also acts as extra armor you can rely on in times of extreme stress such as injury, illness, and surgery. For seniors, more muscle mass is tied to a greater life expectancy—and greater ability to withstand what otherwise might be a life-changing event.
How to do it: Ignore the haters. Anyone who spends time trying to tear you down for your fitness success is the one with the psychological problem, not you. And it isn't your job to fix them. Ignore what they say, and hope that they'll one day see the light. When they do, you'll be standing there, healthy and strong, as an example to learn from.
SOURCE: BODYBUILDING.COM
Shape, tighten and lift your butt in just eight moves with this focused resistance workout from fitness model Janine Horsley.
Warm-up (not pictured)
This dynamic warm-up will prepare your body for key moves. Consider it an investment.
2–3 minutes: (20 seconds each)
Begin with high knees, running in one place for 20 seconds. Followed with butt kickers, with heels kicking back to touch your butt, for 20 seconds. Lastly, fully extend arms and legs in a marching position. Perform jumping marches by jumping in sequence with arms and legs forward and back.
THE WORKOUT
1. Dumbbell step ups (10 to 20 lbs)
3 sets x 12–15 reps (20 seconds' rest)
Start movement holding dumbbell at chest level with elbows tucked in. Place one leg on a platform or bench and thrust up on to bench. The key to this movement is pushing off with the opposite toe on the floor before lifting and keeping weight on the heel on the bench when stepping down. Perform all the reps on the one side before switching legs.
2. Kettlebell Overhead Squats (10 to 15 lb)
3 sets x 12 reps (30 seconds' rest)
Start movement holding a kettlebell with both hands at waist level. When you are ready, engage core, lift kettlebell above your head, and squat parallel to the floor. The key to this movement is engaging the stomach and locking the arms overhead and exhaling as you power up through the squat. Perform with toes slightly pointed out, shoulder-width apart. Keep the arms fully extended above your head until you have completed all the reps for that set.
3. Kettlebell Crossover Reverse Lunge (10 to 12 lb)
3 Sets x 10 reps (30 seconds' rest)
Start movement holding a kettlebell at chest level with both hands. Be sure to keep elbows tucked at sides. As you begin, take one leg back into a reverse lunge position in a 45-degree angle while maintaining an upright squat position. The key to this movement is an upright position and slowly crossing your leg in a reverse lunge while dropping the knee in a straight line down. Be sure to cross slowly to maintain your balance throughout the movement.
4. Dumbbell Stiff-Legged Deadlift (20 to 30 lb)
3 sets x 12 reps (30 seconds' rest)
Start movement with dumbbells at waist level. Maintain a good posture with a slight bend in the knees and slowly lower the weight to the front of your calves, and return to the top of your thighs. The key to this movement is a flat back and slow and steady lowering of the weights.
5. Dynamic Speed Skaters (5 to 10 lb)
3 sets x 45-to-60-second intervals (with 30 seconds' rest)
Start movement with one foot forward and one foot back. As you start in motion, hop into a side lunge position, then spring off and do the same to the other side. The key to this movement is not speed, but balance and coordination.
6. Hamstring Ball Bridge (Body weight)
3 sets x 30-second intervals (with 20 seconds' rest)
Start movement lying flat on your back with your heels resting on the top of the balance ball. As you push down on the ball with your heels, pull the ball towards you and lift your hips straight up, and then slowly bring them down and let the ball move back to the starting position. The key to this movement is keeping your shoulders flat on the ground and squeezing the glutes as you lift the hips. Slow and steady is the game.
7. Cable Kickbacks – 2 sets x 12–15 reps each leg
(20 seconds' rest)
Attach the ankle loop to your ankle. Maintain an upright position with your upper body. Grab the sides of the cable machine, and thrust your leg back, no higher than your waist level, and slowly bring it back with a slight knee bend forward to finish. The key to this movement is slowly squeezing the glutes as you thrust the leg back.
8. Smith Machine Standing Calves 3 sets x 15–20 reps 
(20 seconds' rest)
Start movement with Smith machine bar on your shoulders. Stand on a platform or step to raise and lower your calves. The key to this movement is a slow and full stretch on your toes and lower your heels to get the full benefit of the stretch. It is not about the weight, more the stretch and a slight pause at the top of the movement.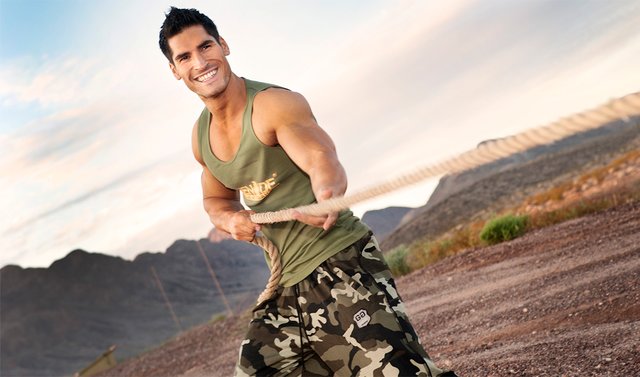 With warm weather approaching, the call for an effective shred has never been stronger. Use these 6 tips to ensure you're six-pack-ready for summer!
Winter's winding down, and everyone's favorite seasonal superpower—the ability to hide excess pounds under a warm sweater—is fading fast. In fact, the summer sun will be high in the sky sooner than you might think, which means shirtless weather is coming in hot. Don't get caught unprepared! If you want to reveal a shredded six-pack come summer, now's the time to plan and prioritize your weight-loss goals
Here are six of my tried-and-true get-lean strategies to help you prepare to bare all when the sun comes out to stay.
1. Combine Cardio Styles
Most people default exclusively to high-intensity interval training, or HIIT cardio when it comes to getting lean. After all, the intense metabolic demand HIIT places on your body is like nothing else, and when done correctly, can take several days to recover from. What that means for you is a heightened calorie-burn both during the workout and as you recover.
I like to do my HIIT in short, sharp bursts, performing 30-second sprints on the treadmill or rowing machine, followed by 30 seconds of rest, for 10-15 rounds. But I don't stop there. I actually follow my HIIT with 15-20 minutes of low-intensity cardio to help remove metabolic byproducts that accumulate during high-intensity exercise, which allows my muscles to recover quicker and gets me ready to train all over again.
This approach combines HIIT's fat-burning ability with the recuperative benefits of low-intensity cardio, basically giving you the best of both worlds. I even like to add a little extra steady-state (because it doesn't demand much in terms of recovery) when I want to burn even more calories.
2. Balance Your Reps And Volume
A lot of people assume that in order to get shredded, you need to lift more reps per set and really "feel the burn," but this isn't necessarily true. Your nutrition and cardio should do the shredding for you, and your lifts should work to maintain your muscle mass and strength. To that end, I stay in the range of 6-8 reps for all my lifts when getting lean. This allows me to keep my muscles full and strong, potentially add a bit of new size, and hit an ideal short-term hormone release.
But just because I use relatively low reps does not mean I skimp on volume! I do 4-5 sets of each exercise rather than the standard 3-4, which increases the overall time under tension for each body part, burns more calories, and contributes to the overall fat loss. I also front-load my workouts with at least two compound movements, which require a lot of energy. Once I'm depleted, I finish up with a few isolation movements.
3. Advance Your Training
When it comes to shredding, I love implementing giant sets—basically, circuits for one body part or multiple exercises performed back to back—especially for my legs, which respond well to high-rep, high-volume work.
I usually hit two compound exercises in a row, such as squats and leg press, then hit my legs immediately afterward with isolation exercises like leg extensions and curls. This forces my muscles to work 3-4 times as hard and 3-4 times as long per set compared with a straight-set format.
The increased time under tension caused by giant sets leads to more muscular exhaustion, a greater energy demand, and more fat burned post-workout as those muscles try to recover.
I'm also a huge fan of forced reps—when your partner helps you lift beyond what you could lift alone—for leaning out. Forced reps push you further than you would normally go on your own, driving adaptation and producing an additional calorie burn that a straight set does not provide.
I recommend choosing a weight where you fail after about 6-8 reps. Once you feel like you can't push out even one more rep, have a partner help you squeeze out 3-5 forced reps with the same weight. I guarantee you'll push yourself to limits you never thought possible!
If you're training solo, try using the double-rep method (DRM) for cutting. Set yourself up with a weight at which you fail at 8 reps. Do a set of 8 with that weight, rest for 5-8 seconds, and then do another 16 reps broken down into several "mini sets."
Use the rest-pause technique—performing as many reps as you can, and then taking short, 15-second rests—to get through that second double set.
DRM training really pushes the envelope of both your pain threshold and your muscular endurance. Oh, and if you haven't noticed the theme yet, it also helps you torch more calories!
4. Manipulate Your Macros
One of my favorite quotes is "what gets measured, gets managed." Carefully planned nutrition is everything when trying to cut, and knowing how to manipulate your macronutrients—protein, carbs, and fat—is essential when building your get-lean plan.
Most people choose to cut carbs in order to get lean, but this is where I differ. I like to keep my carb intake relatively steady year-round to keep my energy high, which allows me to work out harder. To trim some fat from my body, I simply trim some fat from my diet.
Usually, my fat intake is about a half a gram per pound of body weight, which comes out to about 90 grams of fat daily for me. As I get closer to my goal date, or the date on which I want to look my best, I taper this number until it reaches about 40 grams a day.
This simple change gives me just enough of a caloric deficit to burn fat while still leaving me with enough calories from dietary fat to power my essential bodily functions. To compensate for this deficit, I also typically bump my protein up from 1.3-1.5 grams per pound of body weight, which keeps my hunger and cravings at bay and prevents catabolism, or muscle breakdown.
5. Keep Records
If you don't know where you've been, how do you know where you're going? I'm a bit of a data geek, so I love to keep detailed records of my calories and macronutrients from every diet and show prep I've ever done. This gives me plenty of information to compare and allows me to assess the best plan of action to meet my next goal based on my current condition.
When mapping out your plan, give yourself plenty of time to make adaptations. For example, I am usually not more than three weeks out from photo-shoot conditioning, but if I want to step it up and really get stage-ready peeled, I give myself 10-14 weeks. Nothing good comes from rushing the process.
No matter what your timeline, write down everything as you go through that process: what you ate, how it affected your physique, even if it did anything to your body's level of detail or your overall mood. This way, next time you want to lean out, you'll have an accurate and exact accounting of what worked and what didn't.
6. Supplement Smart
Getting lean is no easy task, and supplementing your nutrition can help with cravings as well as energy levels. I love to have a protein shake with my oats after every tough workout to kick-start recovery, spur muscle growth, satisfy my sweet tooth, and help me stay full.
I also take a multivitamin with Omega 3 and 6 daily to ensure I get all my essential fatty acids and micronutrients (vitamins and minerals) that could be missing from my whole-food diet. And, when it comes to traveling, I always carry a protein bar to make it easy to sneak in meals, even when things get busy.
SOURCE: BODYBUILDING.COM
No question: Amazing glutes are the most desired feature on the body for women. Having well-rounded glutes will make you look better in jeans, dresses, shorts, bikinis, or nothing at all. There are thousands of social media pages claiming to have all the secrets to achieving the coveted booty. With so much controversy surrounding the best way to train the glutes for improved development, it's hard to know which path to follow. Well, let me set the record straight on a few of the biggest myths.
Myth 1. Squats are the best exercise for your butt.
In a report titled, "Glutes to the Max", the American Council on Exercise conducted a comprehensive resistance training experiment examining glute electromyography (EMG). The study showed that performing a variety of glute exercises highly activate the glutes, not just squats. Moreover, the squat did not activate the glutes to the highest degree. Squats are a great exercise, but they alone will not maximize glute development. You want to perform other exercises that hit the booty from every angle, such as hip thrusts, deadlifts and back extensions. Your glutes are made up of 3 muscles: the minimus, maximus and medius. In order to achieve the type of fit booty you see as you scroll through your instagram feed, you must perform exercises that target all 3 muscles.
Myth 2. You need to lift heavy to build a booty.
Studies show that the glutes hold a fairly even combination of slow twitch and fast twitch muscle fibers. This indicates that both higher reps and lower reps should be performed when training the glutes. When attempting to maximize hypertrophy, (muscle growth) you want both the type I fibers and the type II fibers to grow to their fullest extent, and research indicates that higher rep training better elicits type I fiber growth, while lower rep training better elicits type II fiber growth. So, make sure you include a variety of rep ranges in your routine.
Myth 3. Your glutes must be sore the next day, or it isn't working.

It is a common mistake to assume that if your booty isn't sore in the days following a training session, then the workout was unproductive and inferior. This could not be further from the truth! You may be more sore in the beginning, doing more leg training than you're used to or doing exercises you've never done before. But as time goes on, this soreness will most likely decrease. Many women who have seen the best results in glute growth never got very sore in the glutes during their transformation process.
Myth 4. The infamous "Squat Challenges" on the internet will give you a booty.
Even if you do 1000 squats per night, that won't make your muscles grow. What will make them grow is to break down the muscles, and let them repair themselves over time. Building and sculpting your body takes time and patience, no matter which muscle you're working on. But having a great trainer providing you with the right exercises, the right sequence, the correct rep range and number of sets, will get you to your results much quicker and more effectively.
There are many, many more misconceptions out there about how to build, lift, and shape your backside. Hopefully, this article has shed some light on optimal glute training strategies and dispelled some common myths and misconceptions. The best glute training programs focus on getting stronger while adhering to excellent technical form in a variety of exercises and rep ranges.
Weightlifting won't get you bulky or turn you into a she-hulk. But you will gain confidence, self-esteem, and a bangin' body.
Want proof? Six years ago Personal Trainer Jessie Hilgenberg, was a pudgy stay-at-home mom.  She had always been active, but for her, that really meant running, yoga, and the occasional "play with light dumbbells" session at the gym. She could never understand why she didn't have the lean, athletic, feminine body she yearned for. Jessie spent hours at the gym and was always consistent.
The answer came to her in the form of iron, and since then, the iron and Jessie have been the best of friends. "I have a more desirable physique at 30 than I did at 20, and I feel better about myself in every conceivable way", Jessie says.
While we at EFP, like Jessie, are blessed to coach and inspire many women around the world who appreciate and engage in regular strength training,  we aren't ignorant to the fact there are still a lot myths and misunderstandings surrounding women and heavy weight training.
But before talking about why those ideas are myths rather than truths, let's talk about the myriad benefits that lifting weights provides.
WHY IS IT SO IMPORTANT TO BE STRONG?
Metabolism and muscles: First, and perhaps most cogent, is the effect that lifting weights has on fat loss. The more muscle a woman has, the more calories she will burn at rest. So, basically, muscles speed up your metabolism, resulting in more effective fat loss.
Bone health: Many studies have shown that lifting weights regularly can increase bone density. Those of us in our 20s and 30s don't think about this often, but someday you will. And won't you be so proud of yourself that you lifted weights and cared for your bone density before you even knew you needed to?
Independence: Being strong makes everything easier. You know that furniture you need moved? Well, now you can do it yourself. How about those 15 bags of groceries? One trip from car to home—all you, girl.
"I remember the moment I realized how important my strength was to my independence. I had just bought a twin bed for my son when he grew out of his toddler bed, and I didn't have anyone to help me carry it into my apartment. I lugged it out of the back of my SUV and proceeded to carry it along the sidewalk, up the stairs, down the stairs and finally into his bedroom. It was exhausting, but I did it all by myself. To me, that kind of strength is priceless." – Jessie Hilgenburg
Confidence: Strong girls exude a confidence that is intoxicating. I happen to believe that this comes from the knowledge that you can accomplish pretty impressive feats at the gym. When you realize your outer strength, you can tap into your inner strength, and that begins to radiate. Confidence is a very attractive quality, and that gym confidence starts to leak into every other aspect of life.
I always say, if you can crush it in the gym, you can crush it at life.
YOU WON'T GET BULKY. HERE'S WHY.
Hormones: Most women simply do not possess the level of testosterone necessary to support a bulky physique. Furthermore, any woman who does have a massively muscular physique is probably supplementing with hormones. While we all have different genetics, and some of us are prone to having more muscle density than others, as a general rule you have to train for bulk to get bulk.
Ask any bodybuilder and they will tell you that gaining muscle isn't easy. You won't turn into a she-hulk just because you perform squats with your body weight, but you will end up with a righteous backside.
Training model: Along those same lines as genetics, the way you train will play a significant role in determining how your body develops. Hypertrophy (increased bulk) is not as easy as you might think, and most bodybuilders work incredibly hard to make sure their training program supports maximum muscle growth in as short a time span as possible.
We train a lot of women, and not a single one has come to me with the complaint that they are too bulky. As a general rule, most women I train are put on 3-5 workouts per week consisting of full-body free-weight training (squats, lunges, deadlifts, pull-ups, push-ups, rows, presses), kettlebell training (swings, snatches), and interval training.
The key is to utilize as many compound, combination, and full-body movements as possible, so that we're increasing lean mass and decreasing fat simultaneously, rather than isolating muscle groups to increase their size.
Of course, much of this is dependent upon your diet, and a bulking diet looks far different than a solid nutritional protocol for a woman on a fat-loss program. The bottom line is that the way you eat and train will determine how your body develops. A full-body training program and a diet rich in protein, veggies, and healthy fats is an effective path toward fat loss and strength for most women.
SO NOW WHAT?
Maybe we've convinced you. Perhaps now, you're thinking you're going to toss your three-pound weights, hop off the elliptical, and give this whole strength thing a shot. Where should you begin?
The following three-workouts-per-week program is a great place for beginners to realize their strength potential and start their body transformation. I recommend beginning each training session with dynamic mobility, glute bridges, planks, and Turkish get-ups. Now get up and get after it!
Day 1
CIRCUIT: 3-5 ROUNDS
CARDIO CIRCUIT: 5-8 ROUNDS
Day 2
CIRCUIT: 3-5 ROUNDS
CARDIO CIRCUIT: 5-8 ROUNDS
Day 3
CIRCUIT: 3-5 ROUNDS
CARDIO CIRCUIT: 5-8 ROUNDS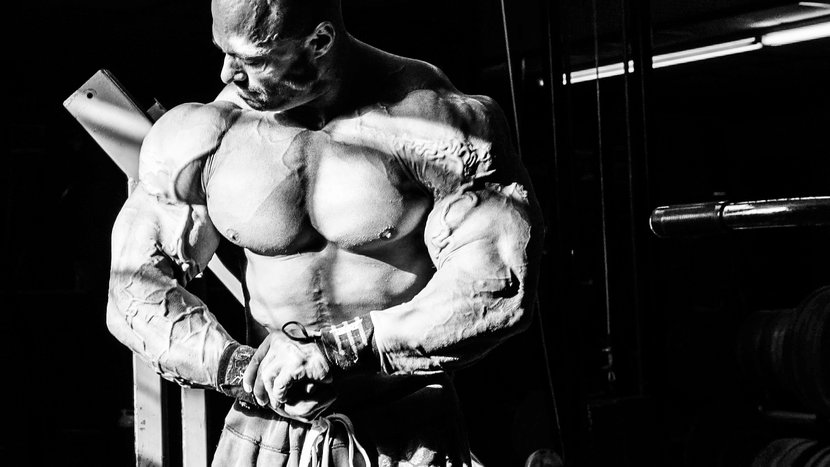 After pushing himself to the limit for competitive glory, Frank McGrath launched his offseason with a chest workout as classic as the gym he performed it in. Get ready to feel like a bodybuilder.
Anyone who has ever been onstage at the peak of leanness knows that the triumph of being in competition shape comes at a steep price. You may look like the best version of yourself for a day, but you probably won't feel like your best self for a while.
On the contrary, in the weeks leading up to the event, the basic rituals of the fit life, like training and eating, can become immense challenges. You may even have to force yourself to do things that used to be automatic. Even chewing can be a battle.
But then, as quickly as a round of applause, it's all over. The trophies get handed out, the sweats go back on, and the tan washes off. You have a meal (or several), carb up, and finally—there you are. Time to wake up again, live again, and yes, even train again.
Frank McGrath went through the wringer to prepare for his first major show in three years, and he detailed every step of the process in the video series Frank McGrath: The Making of an Animal. Then, five days later and 10-15 glorious pounds heavier, he headed to the legendary Ed Ryan's Gym in Glenolden, Pennsylvania, for his first training session of the offseason.
With the cameras rolling and Ed Ryan himself in the house, this IFBB pro and fan favorite trained—what else?—chest. Think you can hang?
Feeling Like A Bodybuilder Again
If you watched Frank's take on intuitive back training, you know that this pro likes to structure his workouts around a combination of the familiar and the impulsive. He has favorite movements that almost always make the cut in one form or another, but he always leaves himself open to a unique machine, a new handle, or a long-forgotten move.
Ed Ryan's Gym is packed with old-school curiosities galore—after all, Ed has run it and kept it intact since 1960—so Frank had plenty of choices for this particular chest beating.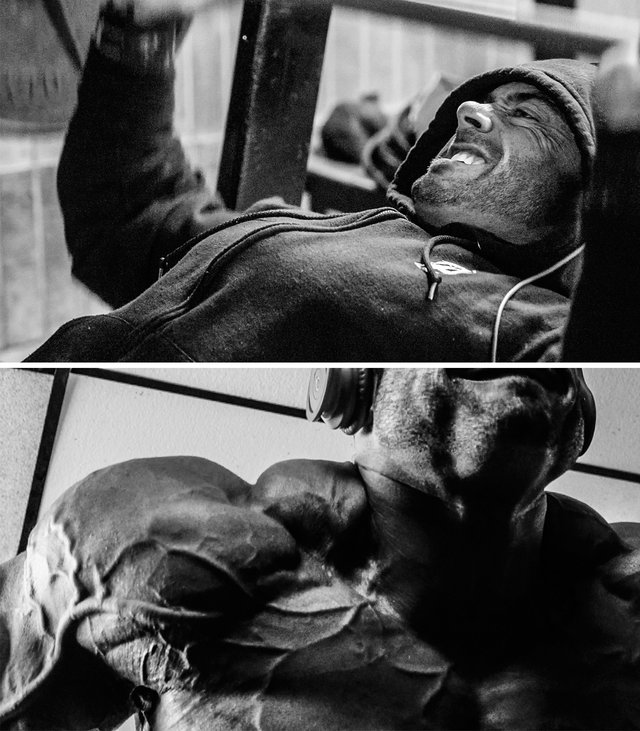 "It's almost like a warp back in time to when bodybuilding was real bodybuilding," Wrath says of his session that day. But before he started exploring, he knew it was time to get reacquainted with the simple incline bench press, one of his staple moves to build an Animal chest.
"It wasn't too heavy," Wrath says of the workout. "I just competed a few days ago, so I didn't want to go too crazy. Just getting a few more reps in, getting the squeeze, stuff like that."
With the Band-Aid now pulled off and the offseason officially under way, Wrath decided it was time to play. He knocked out a few sets on a rattling old universal press machine with a bicycle-bar handle, followed by cable crosses using chain cables, and finally, some dips on a small station attached to the press machine.
Four moves, a mean pump, and he was done. This wasn't some grueling trial-by-fire workout. It was about feeling good—and Wrath felt great.
It would be easy to say that a workout like this is as big a reward as the show itself. After all, in Wrath's words, "It takes nothing to get a pump, and it's like the best time ever. You go to the gym and you don't even use heavy weight, and you're just blowing up."
Everyone who has ever competed has looked at themselves in the mirror during one of these workouts and said, "If I'd only looked like this at the show, I would have killed it!"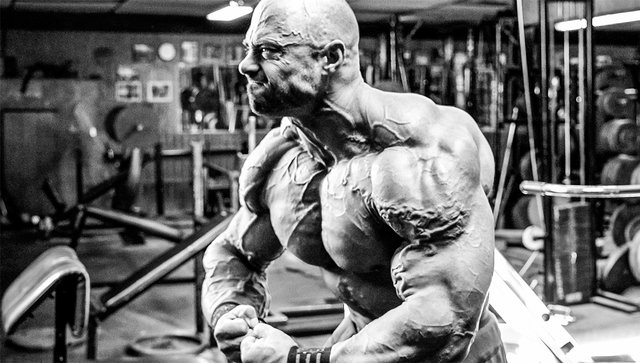 But a seasoned competitor like Wrath knows better. He knows this workout is only possible because of the deprivation that's directly in his rear-view mirror. So no, this workout isn't exactly the prize. It's just a small gift from the bodybuilding gods, to ensure he'll transform again, push himself again, and risk it all again.
He'll be back. Will you?
SOURCE: BODYBUILDING.COM
Here it is, the 10th and final law of building muscle. We've got nine laws down, each of which is an important piece of the body-transformation puzzle. However, in order to be successful with your program, you have to customize your workouts and diet to fit your schedule. Every day is a learning opportunity […]
GET SERIOUS ABOUT YOUR HYDRATION It's important that you stay hydrated throughout the day and go into your workout session in an optimal hydration state. It's simple: When people are dehydrated, they don't train as hard. The workout feels more difficult, and strength levels rapidly decline. Even being slightly dehydrated can impact the quality of […]
SUPPLEMENT WITH FISH FOR GREATER GAINS Regular consumption of fish oil, which includes two fatty acids called EPA and DHA, can help increase muscle protein synthesis (MPS) in response to a meal.1-3 When you eat a meal that includes protein, MPS goes up due to the anabolic nature of protein. However, when you supplement with […]
We all know that protein provides amino-acid building blocks for making muscle and other body proteins. However, not all amino acids are used to make body protein, but instead play other roles in muscle gains and performance. Furthermore, several amino-acid-derived nutrients like creatine and carnitine have special roles in muscle and should be considered as […]