Target Body Part:
Back, Shoulders
Equipment Needed:
Resistance Bands/Cables
Step 1
Starting Position: Kneel on a mat holding resistance cable or band handles in each hand with your arms straight in front of your body, at or just above shoulder height. Your elbows will remain straight throughout the exercise. Grip the handles with the thumbs wrapped around the handles and palms facing each other. Brace your abdominal / core muscles to stabilize your spine. Pull your shoulder blades down and back. Do not allow your low back to arch. Maintain these engagements throughout the exercise.
Step 2
Downward Movement: Exhale. Slowly pull your arms in a wide arc back and down to the level of your hips. As you move through the arc, slowly rotate your arms so that your palms face upward. Keep your torso erect and do not allow your low back to arch.
Step 3
Upward Movement: Inhale and slowly return your arms back to the start position keeping your elbows straight and torso vertical.
Try performing this exercise alongside a mirror to monitor any change in your back or shoulder position.
SOURCE: AMERICAN COUNCIL ON EXERCISE
Target Body Part:
Arms, Chest
Equipment Needed:
Medicine Ball
Step 1
Starting Position:
In a standing position, lean over slightly at the hips keeping the back flat.
Step 2
Begin with the medicine ball at the chest with elbows out to the sides and forcefully push the ball toward the floor underneath the chest.
Step 3
Catch the ball when it rebounds and repeat quickly.
SOURCE: AMERICAN COUNCIL ON EXERCISE
baTarget Body Part:
Abs
Equipment Needed:
Stability Ball
Step 1
Starting Position:
Kneeling behind a stability ball, lean the body forward at a 45 degree angle and rest the elbows on the top of the ball. Keep the stomach muscles tight and the elbows pushing up from the ball directly under the shoulders.
Step 2
Move the ball around with the elbows drawing the letters of the alphabet. Maintain a straight line from head to knees.
SOURCE: AMERICAN COUNCIL ON EXERCISE
Target Body Part:
Full Body/Integrated
Equipment Needed:
No Equipment Needed
Step 1
Starting Position:
Start in a push-up position with the hands shoulder-width apart and the legs straight out directly behind the body about hip-width apart.
Step 2
Squeeze the thighs and glutes and move the right hand and the right foot directly to the right.
Step 3
Once that hand and foot are on the ground, bring the left hand and foot towards the middle of the body.
Step 4
As soon as the left hand and foot are placed on the ground, start the next phase of movement with the right hand and foot. Alternate this arm and leg action for the desired distance.
SOURCE: AMERICAN COUNCIL ON EXERCISE
Target Body Part:
Full Body/Integrated
Equipment Needed:
Resistance Bands/Cables
Step 1
Starting Position:
With a partner, stand facing one another each with one handle or end of a resistance band.
Step 2
With both partners keeping the arms straight, one partner will lower into a squatting position and bring the arms between the legs while the other partner stands with arms extended overhead.
Step 3
Keeping the band taut at all times, partners will simultaneously switch positions so that one is always pulling up on the band and one is always pushing down on the band.
SOURCE: AMERICAN COUNCIL ON EXERCISE
Target Body Part:
Abs, Lower Back –  Arms Quads
Equipment Needed:
Stability Ball
Step 1
Starting Position:
Begin in an all-fours position with your torso on the ball and hands and feet on the floor. Lengthen your legs and stretch your heels to the back of the room. Your hands should be under your shoulders.
Take a few deep breaths. Notice how your abdominals want to rest on the ball when you inhale.
Exhale and pull your abdominals away from the ball. Try to keep them pulled away even when you inhale. This is your abdominal engagement.
Step 2
Once you have established your abdominal engagement, slowly walk your hands forward until your feet come off the floor. Continue walking out until the fronts of your thighs or knees are resting on the top of the ball in a plank position.
It is important to keep your ribcage knitted together and the abdominals strong in order to maintain a rigid torso. Your legs should be very active so that your entire body is straight as a board and aligned parallel to the floor.
Keep your shoulder blades pulling away from your shoulders and toward your hips. Elbows must be straight and hands directly under your shoulders. Keep your legs active.
Step 3
Curling Phase: Exhale and slowly bend your knees towards your chest. The ball will roll forward as your knees tuck under your torso and your hips lift toward the ceiling.
NOTE: This brings your body into somewhat of a handstand position. Be aware of your shoulder strength and keep the elbows straight.
Ideally, your knees are under your hips, your hips are toward the ceiling and your shins are on top of the ball. Hold this position for a breath.
Step 4
Lowering Phase: Inhale and straighten your legs, rolling the ball back the plank position.
MODIFICATION: If you are uncomfortable or feeling unsafe with your hips raised and shins on the ball, simply tuck your knees into your chest without lifting the hips.
SOURCE: AMERICAN COUNCIL ON EXERCISE
Target Body Part:
Abs
Equipment Needed:
Medicine Ball
Level:
Beginner
Step 1: Kneeling with one leg up on the foot and the other back on the knee, hold the ball in both hands near the hip of the rear leg.
Step 2: Twist through the trunk and shoulders to bring the ball across the body and over the opposite shoulder. Keep both arms straight during the whole movement. When finished with one side, switch to the other side.
We are extremely excited to announce the extension of our online training platform by introducing our new subscription based memberships. See the preview below to get insight on all of the new and exciting features.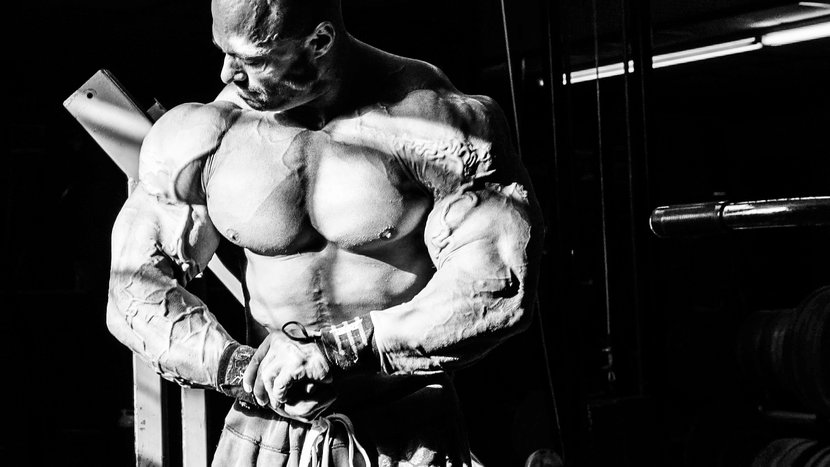 After pushing himself to the limit for competitive glory, Frank McGrath launched his offseason with a chest workout as classic as the gym he performed it in. Get ready to feel like a bodybuilder.
Anyone who has ever been onstage at the peak of leanness knows that the triumph of being in competition shape comes at a steep price. You may look like the best version of yourself for a day, but you probably won't feel like your best self for a while.
On the contrary, in the weeks leading up to the event, the basic rituals of the fit life, like training and eating, can become immense challenges. You may even have to force yourself to do things that used to be automatic. Even chewing can be a battle.
But then, as quickly as a round of applause, it's all over. The trophies get handed out, the sweats go back on, and the tan washes off. You have a meal (or several), carb up, and finally—there you are. Time to wake up again, live again, and yes, even train again.
Frank McGrath went through the wringer to prepare for his first major show in three years, and he detailed every step of the process in the video series Frank McGrath: The Making of an Animal. Then, five days later and 10-15 glorious pounds heavier, he headed to the legendary Ed Ryan's Gym in Glenolden, Pennsylvania, for his first training session of the offseason.
With the cameras rolling and Ed Ryan himself in the house, this IFBB pro and fan favorite trained—what else?—chest. Think you can hang?
Feeling Like A Bodybuilder Again
If you watched Frank's take on intuitive back training, you know that this pro likes to structure his workouts around a combination of the familiar and the impulsive. He has favorite movements that almost always make the cut in one form or another, but he always leaves himself open to a unique machine, a new handle, or a long-forgotten move.
Ed Ryan's Gym is packed with old-school curiosities galore—after all, Ed has run it and kept it intact since 1960—so Frank had plenty of choices for this particular chest beating.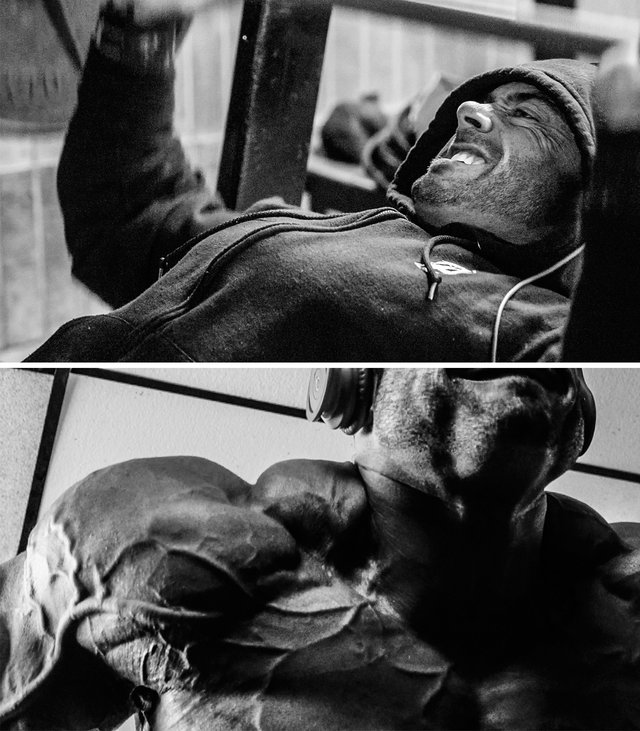 "It's almost like a warp back in time to when bodybuilding was real bodybuilding," Wrath says of his session that day. But before he started exploring, he knew it was time to get reacquainted with the simple incline bench press, one of his staple moves to build an Animal chest.
"It wasn't too heavy," Wrath says of the workout. "I just competed a few days ago, so I didn't want to go too crazy. Just getting a few more reps in, getting the squeeze, stuff like that."
With the Band-Aid now pulled off and the offseason officially under way, Wrath decided it was time to play. He knocked out a few sets on a rattling old universal press machine with a bicycle-bar handle, followed by cable crosses using chain cables, and finally, some dips on a small station attached to the press machine.
Four moves, a mean pump, and he was done. This wasn't some grueling trial-by-fire workout. It was about feeling good—and Wrath felt great.
It would be easy to say that a workout like this is as big a reward as the show itself. After all, in Wrath's words, "It takes nothing to get a pump, and it's like the best time ever. You go to the gym and you don't even use heavy weight, and you're just blowing up."
Everyone who has ever competed has looked at themselves in the mirror during one of these workouts and said, "If I'd only looked like this at the show, I would have killed it!"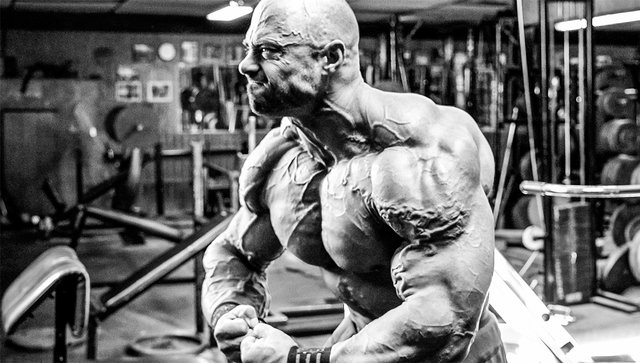 But a seasoned competitor like Wrath knows better. He knows this workout is only possible because of the deprivation that's directly in his rear-view mirror. So no, this workout isn't exactly the prize. It's just a small gift from the bodybuilding gods, to ensure he'll transform again, push himself again, and risk it all again.
He'll be back. Will you?
SOURCE: BODYBUILDING.COM
Target Body Part:
Abs, Butt/Hips, Legs – Thighs
Equipment Needed:
No Equipment
Step 1
Starting Position: Stand with your feet together and your arms raised in front to shoulder height; elbows straight. Pull your shoulders down and back toward your hips. Engage your abdominal/core muscles ("brace") to stabilize your spine.
Step 2
From the starting position, imagine that you are standing on a clock facing 12 o'clock. With your right foot, step across your body (both feet remain pointed forward) to the 3 o'clock position. Once the right foot is firmly placed on the floor, begin to bend at the hips. Push the hips backwards as you shift your weight over your right foot. Continue shifting your weight until your shinbone is straight up and down and your right knee is aligned directly over the second toe of your right foot. Your left knee is bent and the left heel is off the ground.
Step 3
As you lunge, rotate your arms and torso in the opposite direction of the lunge movement. This increases the load on your glute muscle group. Firmly push off with your front leg, activating both your thighs and butt muscles to return to your upright, starting position.
This series of multi-directional (multi-planar) lunges are intended to activate your glutes, which protect your knee during walking, running and jumping-type activities. As many of us have weak glutes, this exercise can be performed as part of your pre-exercise warm-up. Given the moderate degree of complexity of the three movements, we recommend learning this exercise first without your arms and only progress to the arm drivers as you feel comfortable. It is suggested you first learn how to perform single leg-stands on the ground and forward lunges before performing these glute activation lunges.
SOURCE: AMERICAN COUNCIL ON EXERCISE