If you struggle with some of your lifts, a weak core may be at the "core" of the problem. Learning how to target and strengthen your core's muscle fibers will benefit you both in and out of the gym!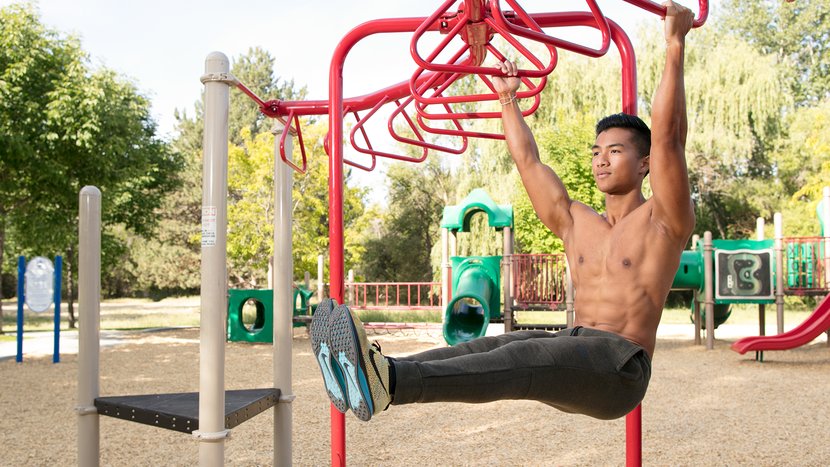 Most people hear the term "core" and think sleek, sexy six-pack. But core doesn't just apply to rock-hard abs—it actually describes almost every muscle in your torso. From elite athletes to weekend warriors, everyone can benefit from a stronger core.
Core-specific training is often forgotten or neglected until the end of a workout when you're already gassed. But a weak core doesn't protect the spine as well as it should and increases your risk of injury while performing even the simplest of daily tasks.
Considering how many daily activities put you at risk by bending and twisting your spine, putting a little extra effort into building a solid core pays off in the end.
More Than Just A Six-Pack
The muscles that surround the spine and abdominal viscera are the major players of the core.[1] But the core doesn't stop at the torso. Many of the muscles crossing the hip—including the abdominal muscles, the gluteal complex, and the hip girdle—work with the upper-body musculature to stabilize and protect the spine. This includes the muscles of the pelvic floor, transversus abdominis, multifidus, external and internal obliques, rectus abdominis, erector spinae, longissimus thoracis, and the diaphragm.
Incorporating core training in your routine is essential for improving posture, increasing functionality and balance, and reducing risk of injury—all of which enhance physical development within any exercise program.
Here's a breakdown of how core training can benefit you:
Improved Posture: Good posture is necessary to avoid back and neck pain and reduce your risk of injury.
Increased Functionality and Performance: A strong core benefits you not only as an athlete but also in all daily activities, especially as you age and become more susceptible to falls and injury.
Better Balance and Coordination: Good core strength improves balance and coordination, which can shorten response times and improve agility, resulting in an overall increase in performance and a decreased risk of injury.
Improved Spinal Support and Reduced Back Pain: Those who sit for long hours at a desk may unknowingly arch or hunch their back. Over time this often leads to chronic back pain. Strengthening the muscles surrounding the spine provides better support for the back and can reduce the frequency of back pain.
Reduced Injury Risk: Improving posture, enhancing balance, coordination, and functionality, and increasing the strength of the muscles that support the spine all help reduce your risk of injury.
If you don't already include core work in your routine, add a few of these exercises in between your regular training sets, or put them together as a stand-alone workout 1-2 days per week. Your target rep range may vary depending on your current fitness level and goals but start with lower weights and higher reps if core has not been your focus lately.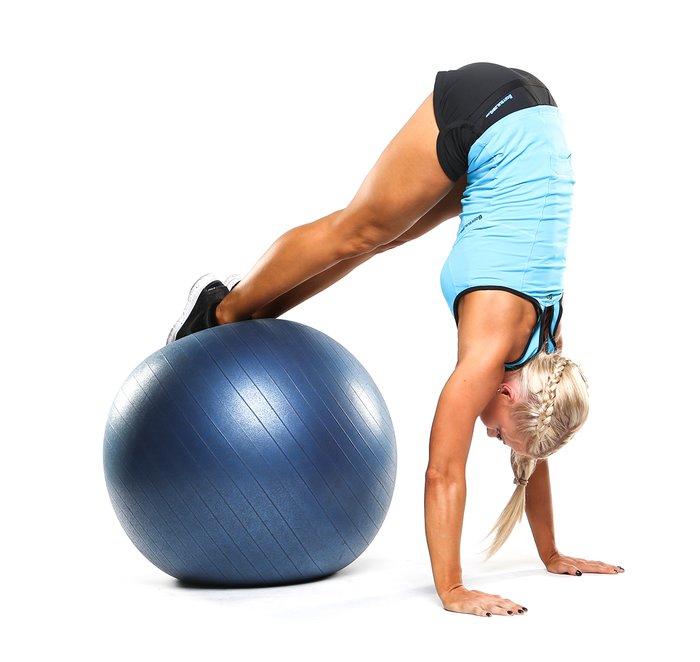 Core Exercises
Suspension trainer pike and plank
Decline sit-up
Roman chair
The simple addition of a balance ball, balance board, or medicine ball will ramp up the intensity. You can also add weight once you've mastered the basic movements and are ready to really challenge your core!
Target Body Part:
Back, Shoulders
Equipment Needed:
Resistance Bands/Cables
Step 1
Starting Position: Kneel on a mat holding resistance cable or band handles in each hand with your arms straight in front of your body, at or just above shoulder height. Your elbows will remain straight throughout the exercise. Grip the handles with the thumbs wrapped around the handles and palms facing each other. Brace your abdominal / core muscles to stabilize your spine. Pull your shoulder blades down and back. Do not allow your low back to arch. Maintain these engagements throughout the exercise.
Step 2
Downward Movement: Exhale. Slowly pull your arms in a wide arc back and down to the level of your hips. As you move through the arc, slowly rotate your arms so that your palms face upward. Keep your torso erect and do not allow your low back to arch.
Step 3
Upward Movement: Inhale and slowly return your arms back to the start position keeping your elbows straight and torso vertical.
Try performing this exercise alongside a mirror to monitor any change in your back or shoulder position.
SOURCE: AMERICAN COUNCIL ON EXERCISE
Target Body Part:
Arms, Chest
Equipment Needed:
Medicine Ball
Step 1
Starting Position:
In a standing position, lean over slightly at the hips keeping the back flat.
Step 2
Begin with the medicine ball at the chest with elbows out to the sides and forcefully push the ball toward the floor underneath the chest.
Step 3
Catch the ball when it rebounds and repeat quickly.
SOURCE: AMERICAN COUNCIL ON EXERCISE
Building your abs requires more than just nailing the best exercises. Here's how to build up your six-pack musculature while chiseling your midsection!
As someone who makes a living training and learning the best approaches for fitness success, I can affirm that some approaches and tips are better than others when it comes to chiseling your six-pack. I've summarized the most important abs-sculpting tips here, starting with some common misconceptions about abdominal training.
MUST-KNOW TRUTHS ABOUT SIX-PACK ABS
1) YOU DON'T HAVE TO TRAIN ABS EVERY DAY TO STIMULATE THEM
When you train other muscle groups like legs and back, you indirectly involve you abs, so your core gets a great deal of secondary stimulation. Of course, you only get that ab activation if you're doing exercises like squats, deadlifts, and standing military presses, so never rely solely on machine work!
However, you don't need to train your abs every day. Your abs are a muscle group just like any other, and they require post-workout recovery time. While your abs do have a higher degree of slow-twitch muscle fibers, which means they have a higher endurance threshold, you'll still reap the best results by allowing them to fully recover between workouts.
2) TRAINING ABS DOESN'T DECREASE BODY FAT AROUND YOUR MIDSECTION
You can do crunches until you're blue in the face, but they won't significantly "spot reduce" the body fat around your midsection. There's no way to selectively reduce your body fat; you need to bring your overall body-fat levels down, which means watching your total caloric intake and burning more cals through exercise.
3) YOUR ABS WON'T BE VISIBLE UNTIL YOU REDUCE YOUR BODY FAT
Unlike many other skeletal muscle groups, you need to carry low body fat to reveal your abs, independent of how many exercises you do for them. Reducing your body fat requires you to either burn more calories or consume fewer calories. Genetics also play a role in body-fat levels, making it easier for some people and more difficult for others.
4) A VISIBLE SIX-PACK DOESN'T NECESSARILY MEAN YOU'RE HEALTHY.
Six-pack abs can be one sign that a person is maintaining a healthy weight, especially given the incidence of obesity today, but it doesn't automatically mean they're healthy.
I know a number of individuals with six-packs who are unhealthy because they under-eat or consistently perform excessive cardio. Finding a balance is key to not just getting your six-pack but maintaining it.
5) ANYONE CAN HAVE A SIX-PACK—OR AT LEAST A FOUR-PACK
Metabolic abnormalities aside, I believe this to be true, but it requires immense dedication and consistency both inside and outside the gym. Keep in mind, though, that the overall shape of your six-pack is determined by genetics.
You may have an 8- or 10-pack—yes, I've seen them—or just a four-pack depending on the genetic cards you've been dealt.
EATING FOR A SIX-PACK
It's difficult to follow a mass-gain eating plan and expect your abs to become more visible. Sure, you can make your abs stronger through training, but more than any other muscle group, six-pack abs are made in the kitchen.
In fact, most physique athletes generally follow a calorie-restricted diet or one in which they eat enough calories to maintain their current condition. It's the exceedingly rare individual who can add lean body mass and chisel his or her six-pack at the same time.
If you want a summer six-pack, your best bet is to keep a close eye on your diet. Instead of decreasing everything you're eating, it's smart to actually increase protein intake when on a calorie-restricted nutrition plan. This will help you stay satiated and spare your hard-earned muscle mass.
Besides watching your carb intake—especially sugars—be mindful of hidden calories in beverages, and consume plenty of filling vegetables that aren't calorically dense. The overall goal is to consume fewer calories each day than you burn.
By keeping your protein intake high, you're less likely to lose lean tissue and burn more body fat. The basics of getting your abs to pop don't get much simpler than that.
TRAINING FOR A SIX-PACK
Eating for your six-pack is an around-the-clock activity, but the training aspect only entails a 15-20-minute workout about every 2-3 days. Train your abs intensely and help them recover with proper rest and nutrition. The only other "secrets" to ab training are consistency and using good form.
You can choose any number of exercises to emphasize (not necessarily isolate) specific areas of your midsection, and most individuals will inevitably gravitate toward a few favorites. Here are a few of mine.
SIX-PACK WORKOUT TIPS
Choose three exercises—one from each category—and do 4 sets of each movement for your abdominal
workouts.
Keep rest periods fairly short between sets, about 30-60 seconds.
For bodyweight exercises, use a controlled movement and go to muscle failure; don't stop at a predetermined
rep target.
For weighted upper-ab movements like machine or cable crunches, choose a resistance that lets you reach
muscle failure at 12-15 reps.
For weighted oblique movements, keep it light.
Do Russian twists for time—about 40 seconds.
GET STARTED ON YOUR SIX-PACK
Ultimately, doing hours of endless reps doesn't guarantee a tight midsection. Train your abdominal core from multiple angles using a variety of exercises to ensure better results. Eat below maintenance or burn more calories through exercise to drop body fat. Train and eat smart in concert, and your six-pack will begin to show!
Plyometrics are great for cardio, toning and fat loss here, we take a look at how the humble plyometric box can be a killer workout session.
"The plyo box has been popular among athletes and hard-core fitness enthusiasts for a while now, but has become more mainstream since the introduction of CrossFit," says elite trainer of over 15 years Matthew Strickland.
"They are great for cardio-based and high-intensity training, but can also be used for rehabilitative purposes and for evening out physique imbalances.Plyometric boxes and aerobic steps come in a range of heights and sizes to adhere to varying fitness levels and exercise goals. While fixed-height boxes are available and usually come in sets of three to four, try opting for a sturdy, adjustable step if you are tight on space. And if you aren't confident in the jumps, we say go for foam rather than metal or wood versions: a lot less chance of skinned shins.
For cardio/fat loss: Plyometric training involves using explosive bodyweight movements to exert maximum force in the shortest amount of time – making them the perfect fat-burning tool. Explosive movements also mean power and strength, especially in the lower body, can be achieved. Again, keep rest periods short and repetitions as high as possible – although given their taxing nature, sessions shouldn't go much longer then 30 to 45 minutes. Tip: "When performing box jumps, start in a quarter squat and hinge from the hips to engage the hamstrings and glutes," says Strickland. "Landings on the box should be soft to help avoid injury."
For toning: While plyometric training is renowned for explosive bodyweight movements, Strickland says that there are a range of toning exercises that can be performed simultaneously. "Think anything from single-leg step-ups to incline push-ups using the box," he says. "The varied range will target muscles you never even knew you had."
"With proper technique, kettlebells can be used to train your entire body for both toning and fat-burning goals," says Strickland. "I run a half-hour class and never repeat the same exercise, so boredom is never an issue."
Compound movements such as the kettlebell swing, in which the center of gravity shifts, work the entire body while moves native to dumbbell workouts often isolate one or two muscle groups.
"Kettlebells, in my experience, allow people to get deeper into the movements than say a dumbbell," says Strickland.
For toning:  Kettlebells of varying weights can be used to load isolated muscle groups. When setting up your home gym, opt for a set of light, medium and heavy kettlebells to ensure everything from shoulders to legs can be worked. Strickland's favorite for a killer lower-body toning session?
"I often work some of my favorite kettlebell exercises into a circuit to ensure the muscles are exhausted while also providing a killer cardio and fat-burning workout," he says. "Try a burpee to kettlebell deadlift to kettlebell upright row. Say no more, this will push your whole body to its limits, and then some."
For fat loss/cardio: Fat loss and cardio fitness are best achieved through circuit-style training, with limited rest and higher repetitions to ensure the heart rate is elevated for long periods. Strickland suggests high-intensity interval work, with exercises performed for 45 seconds at max reps followed by a short 15-second rest. Sessions should last for about 20 to 30 minutes all up. "Work from the larger muscle to smallest, allowing you to achieve a wider variety of movements. It also means the most taxing, compound movements are completed first," says Strickland.
SOURCE: WOMEN'S HEALTH AND FITNESS MAGAZINE
baTarget Body Part:
Abs
Equipment Needed:
Stability Ball
Step 1
Starting Position:
Kneeling behind a stability ball, lean the body forward at a 45 degree angle and rest the elbows on the top of the ball. Keep the stomach muscles tight and the elbows pushing up from the ball directly under the shoulders.
Step 2
Move the ball around with the elbows drawing the letters of the alphabet. Maintain a straight line from head to knees.
SOURCE: AMERICAN COUNCIL ON EXERCISE
High-intensity interval training (HIIT), which involves repeated bouts of high-intensity effort interspersed with recovery times, has become hugely popular in recent years. And for good reason: Research suggests HIIT improves both metabolic function and cardiorespiratory fitness, and requires considerably less workout time.
As a result, HIIT workouts can be found just about everywhere, from boutique fitness studios to large chain health clubs. The underlying principle of these workouts is nearly always the same: train hard, close to maximal capacity, rest a little, train hard, rest a little, repeat. Here's what the research says about why HIIT is such an effective workout.
THE BENEFITS OF HIIT
IMPROVED CARDIORESPIRATORY FUNCTION
HIIT challenges the body to perform at the upper end of the aerobic training zone, which is called the second lactate threshold. When training at this end of the aerobic training zone, there is shift from using aerobic metabolism to anaerobic metabolism to produce energy to fuel the activity.  Training at this intensity improves cardiorespiratory function during exercise and at rest, and the body shifts from using aerobic metabolism to anaerobic mechanism to produce energy and generate force. In fact, HIIT training has been shown to benefit just about everyone, from endurance and strength athletes to recreational exercisers. That's because it's adaptable, meaning it can be used for aerobic training as well as muscular strength training, or a combination of the two.
EXCESS POST-EXERCISE OXYGEN CONSUMPTION
HIIT also increases caloric burn after an exercise bout through a process known as excess post-exercise oxygen consumption, or EPOC. Essentially, the body must consume more oxygen, which increases the amount of calories that are being burned, to return to its pre-exercising state after an intense bout of exercise. Therefore, by incorporating HIIT training into a workout regiment, body composition may improve as a result of the greater caloric burn associated with HIIT training. However, it is important to note that body composition is not altered by exercise alone; nutrition plays a key role in optimizing one's fat-mass-to-lean-mass ratio.
SHORTER WORKOUTS
When it comes to workout efficiency, HIIT is especially attractive in that it does not require a large amount of time to reap the benefits. HIIT workouts typically last 20-30 minutes and are extremely effective as long as the intensity level is high. From both a psychological and physiological perspective, it is easier to maintain a high level intensity for a brief period of time than it is over a longer period of time, greater than 30 minutes.
With a growing body of research demonstrating that HIIT can be an effective and efficient way to exercise, this high-intensity workout is likely to remain popular for many years to come.
Target Body Part:
Full Body/Integrated
Equipment Needed:
No Equipment Needed
Step 1
Starting Position:
Start in a push-up position with the hands shoulder-width apart and the legs straight out directly behind the body about hip-width apart.
Step 2
Squeeze the thighs and glutes and move the right hand and the right foot directly to the right.
Step 3
Once that hand and foot are on the ground, bring the left hand and foot towards the middle of the body.
Step 4
As soon as the left hand and foot are placed on the ground, start the next phase of movement with the right hand and foot. Alternate this arm and leg action for the desired distance.
SOURCE: AMERICAN COUNCIL ON EXERCISE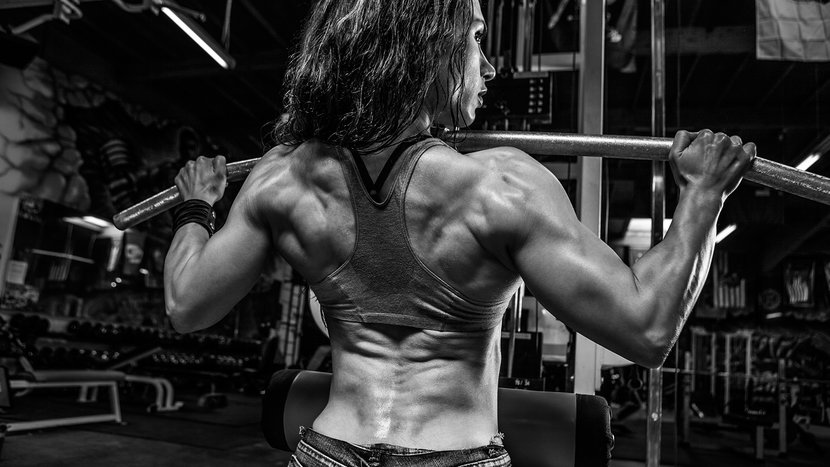 The muscle you have now was earned one way. The muscle you don't have yet might play by a different set of rules entirely. Here's what they are!
You may have heard the term "muscle memory." What this means is that once you've properly trained your muscles to grow, they'll readily regrow after a cutting phase or even a lengthy break due to life circumstances. Muscle, in other words, is smart. If it's been to a certain level once, it can find its way back.
However, when you're trying to grow or increase muscle mass beyond where you've been before, it's more challenging. To make these gains, it helps if you better understand how muscles "think." Too often, performance and physique athletes emphasize random, challenging training protocols without focusing on how and why muscles grow.
Once you understand the eight rules for building muscle tissue and incorporate them into your training program, you'll see results you'll never forget. I guess you could say that's another definition of "muscle memory."
1. Change The Little Things Often
No matter how effective a training style is, your body learns fast and stops further growth. Even negative reps—which spur growth by causing lots of damage to muscle fibers—can quickly become ineffective after just a few consecutive workouts.
When you perform the same workout over and over, muscle mass adapts to your training, and it eventually plateaus, which is another way of saying that it stops growing. Many people think they are "successful" if they crank out one more rep with a given weight, or lift 5 more pounds than they did the time before. But if that's the only approach you use, it's not efficient.
How to do it: Change up the variables from one workout to the next: rep ranges, time under tension, the weight you use, rest periods, picking similar-but-different exercises, and even duration of rest between sets. Always let your muscles know the overall goal, but keep them guessing about the details.
2. Give Your Muscles Space To Adapt
This rule may seem to contradict the previous one, but it's a necessary companion, a yin to the yang. You must stress muscle tissue to trigger growth, but then you must allow it to heal. After all, it's the healing process that ultimately creates the growth.
Don't leave this part up to chance or wait until you're burned out. Whether you're a performance, strength, or physique athlete, you must build recovery phases into your training. Otherwise, you'll never maximize muscle growth.
How to do it: No single body part should be maximally stressed more than 2-3 times a week—and three is an exception. Nor should you hammer a particular muscle group for more than about six weeks. Your whole body needs to recover from body-part-specific training too. Include at least one full rest day at least once a week. Every 2-3 months, take off an entire week.
3. Don't Reinvent The Wheel When It Comes To Nutrition
While time is the greatest healer, proper nutrition is one of the most important factors in adding muscle tissue. What you eat provides the raw materials for growth.
I could provide you with some new-fangled, overcomplicated approach "guaranteed" to add 10 pounds of flesh in a week, but I won't. Just get enough of the right stuff, at the right time. It's not rocket science.
How to do it: The theory of the "anabolic window" has suffered some cracks in recent years, but post-workout is still as good a time as any to consume a shake with fast-digesting protein like whey protein. Also, consume plenty of healthy nutrients through multiple meals throughout the day. My recommendation for growth is 1.5 grams of protein per pound of lean body weight per day—every day. Don't miss a day.
4. Change The Big Things Every Once In A While
Muscle tissue is smart. It figures out what you're trying to do pretty quickly. You can change the little things daily while keeping the big idea the same, but after about 6-8 weeks, the muscle will catch on. This is the point of diminishing returns, but too many people coast right by it and keep coasting through workouts they could do in their sleep.
This is why it's crucial to make a significant shift in your training program every 6-8 weeks or so. It's hard, because you'll have to change and actually learn new things, but it's definitely the best way.
How to do it: Go from a muscle-growth phase to a strength phase, to a ripping-up phase, to a cross-training phase, or to something else entirely. Just make sure to change the protocol every 6-8 weeks or so.
5. Perform Free-Weight Exercises First
One of the ways to encourage growth is by forcing your muscles to deal with the multiple demands imposed by free weights. Not only do you have to lift the weight, but you also have to stabilize it with muscles other than the prime movers of the lift. Stabilizers are the often-tiny muscles that help keep your joints strong and help prevent damage to tendons and ligaments. When you train with machines, you lose much of this stabilization component.
How to do it: After your warm-up, start your workout with free-weight movements. This is the most important work you'll do. Machine work can come afterward to add some volume and meet specific goals.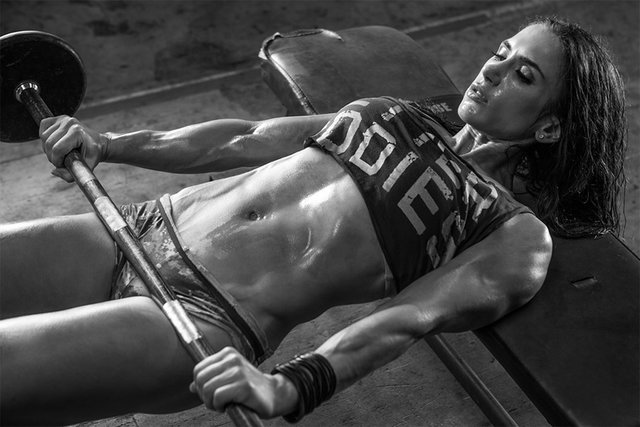 Yes, barbells are harder to control than machines. This is no accident. And it's exactly why you need more free weights in your program.
6. Focus On Form Above All
Your muscles have friends called tendons and ligaments. You may only think about these guys when they're complaining, but their importance goes beyond avoiding injury. Your tendons must be healthy if you want to apply proper stress to muscle tissue. You can build muscle with sloppy form, but your connective tissues will eventually cry uncle, interrupting your relentless quest—and painfully so.
Your goal is to create stress to muscle tissue that can be repaired in a day or two—not to cause so much damage that you get injured. When you perform free-weight moves with proper form, you're strengthening, these crucial support structures rather than damaging them. That helps lead to greater muscle growth.
How to do it: Don't assume your form is perfect. It probably isn't. Plenty of people think their squat is just fine when…yeesh. Have someone take a look, and prepare yourself for criticism.
7. Know That The More You Have, The Harder It Is To Add
Muscles grow more slowly—much more slowly—than you probably desire. More bad news: Once you've added a significant amount of muscle tissue, it becomes even more challenging.
On the other hand, that's what makes working out so amazing. There are no shortcuts—or at least no legal ones. You need to pay your dues and put in your time, and then you can wear that added muscle like the badge of honor it is.
How to do it: Have patience, and stay disciplined. Keep going to the gym and performing challenging routines. Keep changing up the variables of your workouts like clockwork. When you start rushing, that's when you'll often suffer an injury that will set you way back. It's virtually impossible to train your entire life without getting injured, but you can avoid most injuries by training smart.
8. Embrace Muscle-Building As Health-Building
Many people will tell you that spending time in the gym to build muscle mass is superficial. Sure, having defined arms and strong legs make you feel great in the mirror or while you strut in your favorite outfit, that doesn't mean they're not important.
In addition to the health benefits you gain from the training process itself, simply carrying more muscle is healthy. Muscle tissue revs up your metabolic rate, helping your body prevent fat storage, and it also acts as extra armor you can rely on in times of extreme stress such as injury, illness, and surgery. For seniors, more muscle mass is tied to a greater life expectancy—and greater ability to withstand what otherwise might be a life-changing event.
How to do it: Ignore the haters. Anyone who spends time trying to tear you down for your fitness success is the one with the psychological problem, not you. And it isn't your job to fix them. Ignore what they say, and hope that they'll one day see the light. When they do, you'll be standing there, healthy and strong, as an example to learn from.
SOURCE: BODYBUILDING.COM
As much as we all try to stick to our workout routines no matter what, the cold weather and shorter days during the winter often lead to less working out and more Netflixing. Then suddenly the days start getting longer, the temperature starts to rise, and you realize that swimsuit season is right around the corner! It's time to spring back into shape, but where and how should you start?
Find a workout partner
Not having someone to exercise with has been cited as a barrier to regular workouts among both men and women. While you don't have to have a workout partner to create a successful fitness routine, there are many benefits to working out with a friend. Not only will you have an extra layer of accountability to get to the gym if your friend is waiting for you there, you may be more willing to try new types of workouts if you aren't doing it alone.
Choose the workout that's best for you
When you're just getting back to a workout routine, should you do full-body workouts or focus on one body part at a time to space things out? A lot depends on your individual goals and abilities. It also depends on how much time you have. If you're looking to burn fat and lose weight, full-body workouts are much more efficient, particularly when using compound movements that use more than one muscle group at the same time. Full-body workouts may also mean you'll need to spend fewer days in the gym.
If you're especially pressed for time, high-intensity interval training (HIIT) workouts are great, but very challenging, option. HIIT pairs high-intensity movements with lower-intensity movements to keep your body in peak fat-burning and muscle-building condition throughout the workout. If your goals are more about building muscle, you may decide to focus on one body part at a time. The one caution here is that you may be more likely to skip the muscle groups you don't particularly enjoy training until you establish a regular routine. If you are only planning to work out three days per week, this approach may not be the best for you.
The most important thing is to choose a workout that you'll actually enjoy doing. As you're reestablishing a routine, it's a lot easier to convince yourself to go to the gym if you're looking forward to it. Use this as an opportunity to try a new group fitness class like Zumba or spin. Not only will being in a group help motivate you, these types of classes are usually set to upbeat music that helps the time pass quickly.
Don't skip the warm-up
If you're especially anxious to get back to a routine and see results, it may be all too easy to think that you're better off skipping a warm-up and spending your whole hour at the gym on a hard workout.  A proper warm-up is not only essential to your safety, it actually leads to a much more beneficial workout! That's because a warm-up prepares your body for the exercises you're about to do, loosens up your muscles and joints so you don't pull or sprain something, and gets your heart rate going. This means that by the time you actually get to your workout, you're already burning calories and stoking your metabolism.
It's also really important to realize that walking from your car to the treadmill doesn't count as a proper warm-up. If you aren't sweating at least a little bit or breathing hard by the end of your warm-up, you aren't ready for the really heavy lifting. A good warm-up routine might consist of foam rolling (especially if you're sore from a prior workout), dynamic stretches (those done with movement, like walking toe taps and jumping jacks), and bodyweight exercises that mimic the movements you'll be doing during your workout. For example, you might add high knees and butt kicks to your warm-up routine to prepare for a run or add some bodyweight squats to prepare for leg day.
Make sure you fuel properly
What's the use of a good workout routine if you aren't eating properly? If your goal is to lose weight, nutrition is an integral part of that, and poor nutrition can easily undo all your hard work in the gym. Nutrition isn't just important if you're trying to lose weight; it's also important to make sure you're eating enough and drinking enough water to safely fuel your workout. If your workouts are making you dizzy or lightheaded, you are either dehydrated or not eating enough prior to your workout.
Just like fueling beforehand is important, eating for muscle recovery should also be a priority. Try to eat something with protein within an hour of your workout. This is the period during which your muscles can utilize the protein most effectively to repair and rebuild. Abs aren't the only muscles built in the kitchen.
Don't beat yourself up
Getting back into a workout routine isn't easy. Even if you start slow and have a workout buddy, there may be days when you give in to the call of the couch. The worst thing you can do on these days is beat yourself up and decide that it just isn't worth it. Give yourself a little wiggle room and cut yourself some slack, especially early on. Don't let missing a single day take the steam out of your engine!