If you struggle with some of your lifts, a weak core may be at the "core" of the problem. Learning how to target and strengthen your core's muscle fibers will benefit you both in and out of the gym!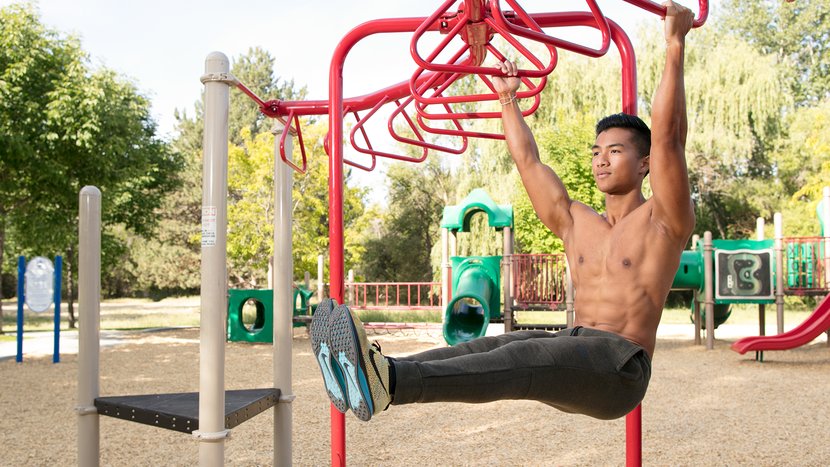 Most people hear the term "core" and think sleek, sexy six-pack. But core doesn't just apply to rock-hard abs—it actually describes almost every muscle in your torso. From elite athletes to weekend warriors, everyone can benefit from a stronger core.
Core-specific training is often forgotten or neglected until the end of a workout when you're already gassed. But a weak core doesn't protect the spine as well as it should and increases your risk of injury while performing even the simplest of daily tasks.
Considering how many daily activities put you at risk by bending and twisting your spine, putting a little extra effort into building a solid core pays off in the end.
More Than Just A Six-Pack
The muscles that surround the spine and abdominal viscera are the major players of the core.[1] But the core doesn't stop at the torso. Many of the muscles crossing the hip—including the abdominal muscles, the gluteal complex, and the hip girdle—work with the upper-body musculature to stabilize and protect the spine. This includes the muscles of the pelvic floor, transversus abdominis, multifidus, external and internal obliques, rectus abdominis, erector spinae, longissimus thoracis, and the diaphragm.
Incorporating core training in your routine is essential for improving posture, increasing functionality and balance, and reducing risk of injury—all of which enhance physical development within any exercise program.
Here's a breakdown of how core training can benefit you:
Improved Posture: Good posture is necessary to avoid back and neck pain and reduce your risk of injury.
Increased Functionality and Performance: A strong core benefits you not only as an athlete but also in all daily activities, especially as you age and become more susceptible to falls and injury.
Better Balance and Coordination: Good core strength improves balance and coordination, which can shorten response times and improve agility, resulting in an overall increase in performance and a decreased risk of injury.
Improved Spinal Support and Reduced Back Pain: Those who sit for long hours at a desk may unknowingly arch or hunch their back. Over time this often leads to chronic back pain. Strengthening the muscles surrounding the spine provides better support for the back and can reduce the frequency of back pain.
Reduced Injury Risk: Improving posture, enhancing balance, coordination, and functionality, and increasing the strength of the muscles that support the spine all help reduce your risk of injury.
If you don't already include core work in your routine, add a few of these exercises in between your regular training sets, or put them together as a stand-alone workout 1-2 days per week. Your target rep range may vary depending on your current fitness level and goals but start with lower weights and higher reps if core has not been your focus lately.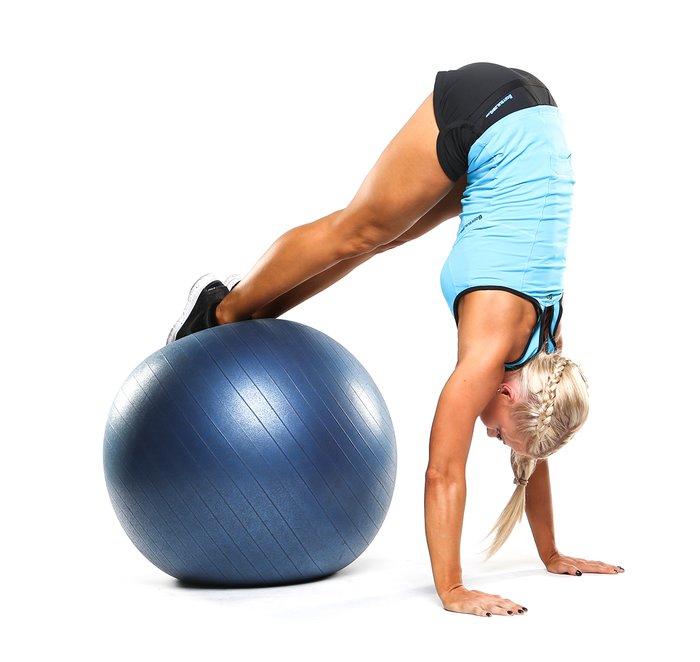 Core Exercises
Suspension trainer pike and plank
Decline sit-up
Roman chair
The simple addition of a balance ball, balance board, or medicine ball will ramp up the intensity. You can also add weight once you've mastered the basic movements and are ready to really challenge your core!
Target Body Part:
Back, Shoulders
Equipment Needed:
Resistance Bands/Cables
Step 1
Starting Position: Kneel on a mat holding resistance cable or band handles in each hand with your arms straight in front of your body, at or just above shoulder height. Your elbows will remain straight throughout the exercise. Grip the handles with the thumbs wrapped around the handles and palms facing each other. Brace your abdominal / core muscles to stabilize your spine. Pull your shoulder blades down and back. Do not allow your low back to arch. Maintain these engagements throughout the exercise.
Step 2
Downward Movement: Exhale. Slowly pull your arms in a wide arc back and down to the level of your hips. As you move through the arc, slowly rotate your arms so that your palms face upward. Keep your torso erect and do not allow your low back to arch.
Step 3
Upward Movement: Inhale and slowly return your arms back to the start position keeping your elbows straight and torso vertical.
Try performing this exercise alongside a mirror to monitor any change in your back or shoulder position.
SOURCE: AMERICAN COUNCIL ON EXERCISE
Target Body Part:
Arms, Chest
Equipment Needed:
Medicine Ball
Step 1
Starting Position:
In a standing position, lean over slightly at the hips keeping the back flat.
Step 2
Begin with the medicine ball at the chest with elbows out to the sides and forcefully push the ball toward the floor underneath the chest.
Step 3
Catch the ball when it rebounds and repeat quickly.
SOURCE: AMERICAN COUNCIL ON EXERCISE
Plyometrics are great for cardio, toning and fat loss here, we take a look at how the humble plyometric box can be a killer workout session.
"The plyo box has been popular among athletes and hard-core fitness enthusiasts for a while now, but has become more mainstream since the introduction of CrossFit," says elite trainer of over 15 years Matthew Strickland.
"They are great for cardio-based and high-intensity training, but can also be used for rehabilitative purposes and for evening out physique imbalances.Plyometric boxes and aerobic steps come in a range of heights and sizes to adhere to varying fitness levels and exercise goals. While fixed-height boxes are available and usually come in sets of three to four, try opting for a sturdy, adjustable step if you are tight on space. And if you aren't confident in the jumps, we say go for foam rather than metal or wood versions: a lot less chance of skinned shins.
For cardio/fat loss: Plyometric training involves using explosive bodyweight movements to exert maximum force in the shortest amount of time – making them the perfect fat-burning tool. Explosive movements also mean power and strength, especially in the lower body, can be achieved. Again, keep rest periods short and repetitions as high as possible – although given their taxing nature, sessions shouldn't go much longer then 30 to 45 minutes. Tip: "When performing box jumps, start in a quarter squat and hinge from the hips to engage the hamstrings and glutes," says Strickland. "Landings on the box should be soft to help avoid injury."
For toning: While plyometric training is renowned for explosive bodyweight movements, Strickland says that there are a range of toning exercises that can be performed simultaneously. "Think anything from single-leg step-ups to incline push-ups using the box," he says. "The varied range will target muscles you never even knew you had."
"With proper technique, kettlebells can be used to train your entire body for both toning and fat-burning goals," says Strickland. "I run a half-hour class and never repeat the same exercise, so boredom is never an issue."
Compound movements such as the kettlebell swing, in which the center of gravity shifts, work the entire body while moves native to dumbbell workouts often isolate one or two muscle groups.
"Kettlebells, in my experience, allow people to get deeper into the movements than say a dumbbell," says Strickland.
For toning:  Kettlebells of varying weights can be used to load isolated muscle groups. When setting up your home gym, opt for a set of light, medium and heavy kettlebells to ensure everything from shoulders to legs can be worked. Strickland's favorite for a killer lower-body toning session?
"I often work some of my favorite kettlebell exercises into a circuit to ensure the muscles are exhausted while also providing a killer cardio and fat-burning workout," he says. "Try a burpee to kettlebell deadlift to kettlebell upright row. Say no more, this will push your whole body to its limits, and then some."
For fat loss/cardio: Fat loss and cardio fitness are best achieved through circuit-style training, with limited rest and higher repetitions to ensure the heart rate is elevated for long periods. Strickland suggests high-intensity interval work, with exercises performed for 45 seconds at max reps followed by a short 15-second rest. Sessions should last for about 20 to 30 minutes all up. "Work from the larger muscle to smallest, allowing you to achieve a wider variety of movements. It also means the most taxing, compound movements are completed first," says Strickland.
SOURCE: WOMEN'S HEALTH AND FITNESS MAGAZINE
baTarget Body Part:
Abs
Equipment Needed:
Stability Ball
Step 1
Starting Position:
Kneeling behind a stability ball, lean the body forward at a 45 degree angle and rest the elbows on the top of the ball. Keep the stomach muscles tight and the elbows pushing up from the ball directly under the shoulders.
Step 2
Move the ball around with the elbows drawing the letters of the alphabet. Maintain a straight line from head to knees.
SOURCE: AMERICAN COUNCIL ON EXERCISE
Target Body Part:
Full Body/Integrated
Equipment Needed:
No Equipment Needed
Step 1
Starting Position:
Start in a push-up position with the hands shoulder-width apart and the legs straight out directly behind the body about hip-width apart.
Step 2
Squeeze the thighs and glutes and move the right hand and the right foot directly to the right.
Step 3
Once that hand and foot are on the ground, bring the left hand and foot towards the middle of the body.
Step 4
As soon as the left hand and foot are placed on the ground, start the next phase of movement with the right hand and foot. Alternate this arm and leg action for the desired distance.
SOURCE: AMERICAN COUNCIL ON EXERCISE
Target Body Part:
Full Body/Integrated
Equipment Needed:
Resistance Bands/Cables
Step 1
Starting Position:
With a partner, stand facing one another each with one handle or end of a resistance band.
Step 2
With both partners keeping the arms straight, one partner will lower into a squatting position and bring the arms between the legs while the other partner stands with arms extended overhead.
Step 3
Keeping the band taut at all times, partners will simultaneously switch positions so that one is always pulling up on the band and one is always pushing down on the band.
SOURCE: AMERICAN COUNCIL ON EXERCISE
Target Body Part:
Abs, Lower Back –  Arms Quads
Equipment Needed:
Stability Ball
Step 1
Starting Position:
Begin in an all-fours position with your torso on the ball and hands and feet on the floor. Lengthen your legs and stretch your heels to the back of the room. Your hands should be under your shoulders.
Take a few deep breaths. Notice how your abdominals want to rest on the ball when you inhale.
Exhale and pull your abdominals away from the ball. Try to keep them pulled away even when you inhale. This is your abdominal engagement.
Step 2
Once you have established your abdominal engagement, slowly walk your hands forward until your feet come off the floor. Continue walking out until the fronts of your thighs or knees are resting on the top of the ball in a plank position.
It is important to keep your ribcage knitted together and the abdominals strong in order to maintain a rigid torso. Your legs should be very active so that your entire body is straight as a board and aligned parallel to the floor.
Keep your shoulder blades pulling away from your shoulders and toward your hips. Elbows must be straight and hands directly under your shoulders. Keep your legs active.
Step 3
Curling Phase: Exhale and slowly bend your knees towards your chest. The ball will roll forward as your knees tuck under your torso and your hips lift toward the ceiling.
NOTE: This brings your body into somewhat of a handstand position. Be aware of your shoulder strength and keep the elbows straight.
Ideally, your knees are under your hips, your hips are toward the ceiling and your shins are on top of the ball. Hold this position for a breath.
Step 4
Lowering Phase: Inhale and straighten your legs, rolling the ball back the plank position.
MODIFICATION: If you are uncomfortable or feeling unsafe with your hips raised and shins on the ball, simply tuck your knees into your chest without lifting the hips.
SOURCE: AMERICAN COUNCIL ON EXERCISE