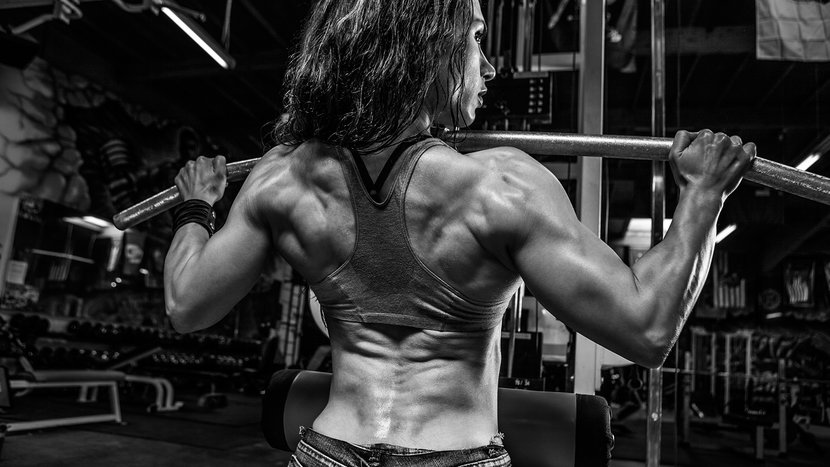 The muscle you have now was earned one way. The muscle you don't have yet might play by a different set of rules entirely. Here's what they are!
You may have heard the term "muscle memory." What this means is that once you've properly trained your muscles to grow, they'll readily regrow after a cutting phase or even a lengthy break due to life circumstances. Muscle, in other words, is smart. If it's been to a certain level once, it can find its way back.
However, when you're trying to grow or increase muscle mass beyond where you've been before, it's more challenging. To make these gains, it helps if you better understand how muscles "think." Too often, performance and physique athletes emphasize random, challenging training protocols without focusing on how and why muscles grow.
Once you understand the eight rules for building muscle tissue and incorporate them into your training program, you'll see results you'll never forget. I guess you could say that's another definition of "muscle memory."
1. Change The Little Things Often
No matter how effective a training style is, your body learns fast and stops further growth. Even negative reps—which spur growth by causing lots of damage to muscle fibers—can quickly become ineffective after just a few consecutive workouts.
When you perform the same workout over and over, muscle mass adapts to your training, and it eventually plateaus, which is another way of saying that it stops growing. Many people think they are "successful" if they crank out one more rep with a given weight, or lift 5 more pounds than they did the time before. But if that's the only approach you use, it's not efficient.
How to do it: Change up the variables from one workout to the next: rep ranges, time under tension, the weight you use, rest periods, picking similar-but-different exercises, and even duration of rest between sets. Always let your muscles know the overall goal, but keep them guessing about the details.
2. Give Your Muscles Space To Adapt
This rule may seem to contradict the previous one, but it's a necessary companion, a yin to the yang. You must stress muscle tissue to trigger growth, but then you must allow it to heal. After all, it's the healing process that ultimately creates the growth.
Don't leave this part up to chance or wait until you're burned out. Whether you're a performance, strength, or physique athlete, you must build recovery phases into your training. Otherwise, you'll never maximize muscle growth.
How to do it: No single body part should be maximally stressed more than 2-3 times a week—and three is an exception. Nor should you hammer a particular muscle group for more than about six weeks. Your whole body needs to recover from body-part-specific training too. Include at least one full rest day at least once a week. Every 2-3 months, take off an entire week.
3. Don't Reinvent The Wheel When It Comes To Nutrition
While time is the greatest healer, proper nutrition is one of the most important factors in adding muscle tissue. What you eat provides the raw materials for growth.
I could provide you with some new-fangled, overcomplicated approach "guaranteed" to add 10 pounds of flesh in a week, but I won't. Just get enough of the right stuff, at the right time. It's not rocket science.
How to do it: The theory of the "anabolic window" has suffered some cracks in recent years, but post-workout is still as good a time as any to consume a shake with fast-digesting protein like whey protein. Also, consume plenty of healthy nutrients through multiple meals throughout the day. My recommendation for growth is 1.5 grams of protein per pound of lean body weight per day—every day. Don't miss a day.
4. Change The Big Things Every Once In A While
Muscle tissue is smart. It figures out what you're trying to do pretty quickly. You can change the little things daily while keeping the big idea the same, but after about 6-8 weeks, the muscle will catch on. This is the point of diminishing returns, but too many people coast right by it and keep coasting through workouts they could do in their sleep.
This is why it's crucial to make a significant shift in your training program every 6-8 weeks or so. It's hard, because you'll have to change and actually learn new things, but it's definitely the best way.
How to do it: Go from a muscle-growth phase to a strength phase, to a ripping-up phase, to a cross-training phase, or to something else entirely. Just make sure to change the protocol every 6-8 weeks or so.
5. Perform Free-Weight Exercises First
One of the ways to encourage growth is by forcing your muscles to deal with the multiple demands imposed by free weights. Not only do you have to lift the weight, but you also have to stabilize it with muscles other than the prime movers of the lift. Stabilizers are the often-tiny muscles that help keep your joints strong and help prevent damage to tendons and ligaments. When you train with machines, you lose much of this stabilization component.
How to do it: After your warm-up, start your workout with free-weight movements. This is the most important work you'll do. Machine work can come afterward to add some volume and meet specific goals.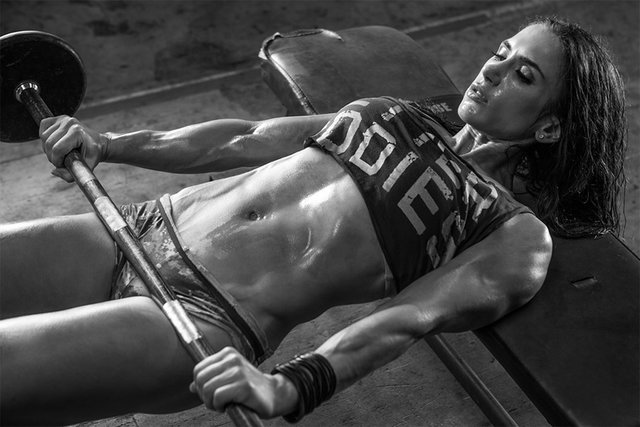 Yes, barbells are harder to control than machines. This is no accident. And it's exactly why you need more free weights in your program.
6. Focus On Form Above All
Your muscles have friends called tendons and ligaments. You may only think about these guys when they're complaining, but their importance goes beyond avoiding injury. Your tendons must be healthy if you want to apply proper stress to muscle tissue. You can build muscle with sloppy form, but your connective tissues will eventually cry uncle, interrupting your relentless quest—and painfully so.
Your goal is to create stress to muscle tissue that can be repaired in a day or two—not to cause so much damage that you get injured. When you perform free-weight moves with proper form, you're strengthening, these crucial support structures rather than damaging them. That helps lead to greater muscle growth.
How to do it: Don't assume your form is perfect. It probably isn't. Plenty of people think their squat is just fine when…yeesh. Have someone take a look, and prepare yourself for criticism.
7. Know That The More You Have, The Harder It Is To Add
Muscles grow more slowly—much more slowly—than you probably desire. More bad news: Once you've added a significant amount of muscle tissue, it becomes even more challenging.
On the other hand, that's what makes working out so amazing. There are no shortcuts—or at least no legal ones. You need to pay your dues and put in your time, and then you can wear that added muscle like the badge of honor it is.
How to do it: Have patience, and stay disciplined. Keep going to the gym and performing challenging routines. Keep changing up the variables of your workouts like clockwork. When you start rushing, that's when you'll often suffer an injury that will set you way back. It's virtually impossible to train your entire life without getting injured, but you can avoid most injuries by training smart.
8. Embrace Muscle-Building As Health-Building
Many people will tell you that spending time in the gym to build muscle mass is superficial. Sure, having defined arms and strong legs make you feel great in the mirror or while you strut in your favorite outfit, that doesn't mean they're not important.
In addition to the health benefits you gain from the training process itself, simply carrying more muscle is healthy. Muscle tissue revs up your metabolic rate, helping your body prevent fat storage, and it also acts as extra armor you can rely on in times of extreme stress such as injury, illness, and surgery. For seniors, more muscle mass is tied to a greater life expectancy—and greater ability to withstand what otherwise might be a life-changing event.
How to do it: Ignore the haters. Anyone who spends time trying to tear you down for your fitness success is the one with the psychological problem, not you. And it isn't your job to fix them. Ignore what they say, and hope that they'll one day see the light. When they do, you'll be standing there, healthy and strong, as an example to learn from.
SOURCE: BODYBUILDING.COM
As much as we all try to stick to our workout routines no matter what, the cold weather and shorter days during the winter often lead to less working out and more Netflixing. Then suddenly the days start getting longer, the temperature starts to rise, and you realize that swimsuit season is right around the corner! It's time to spring back into shape, but where and how should you start?
Find a workout partner
Not having someone to exercise with has been cited as a barrier to regular workouts among both men and women. While you don't have to have a workout partner to create a successful fitness routine, there are many benefits to working out with a friend. Not only will you have an extra layer of accountability to get to the gym if your friend is waiting for you there, you may be more willing to try new types of workouts if you aren't doing it alone.
Choose the workout that's best for you
When you're just getting back to a workout routine, should you do full-body workouts or focus on one body part at a time to space things out? A lot depends on your individual goals and abilities. It also depends on how much time you have. If you're looking to burn fat and lose weight, full-body workouts are much more efficient, particularly when using compound movements that use more than one muscle group at the same time. Full-body workouts may also mean you'll need to spend fewer days in the gym.
If you're especially pressed for time, high-intensity interval training (HIIT) workouts are great, but very challenging, option. HIIT pairs high-intensity movements with lower-intensity movements to keep your body in peak fat-burning and muscle-building condition throughout the workout. If your goals are more about building muscle, you may decide to focus on one body part at a time. The one caution here is that you may be more likely to skip the muscle groups you don't particularly enjoy training until you establish a regular routine. If you are only planning to work out three days per week, this approach may not be the best for you.
The most important thing is to choose a workout that you'll actually enjoy doing. As you're reestablishing a routine, it's a lot easier to convince yourself to go to the gym if you're looking forward to it. Use this as an opportunity to try a new group fitness class like Zumba or spin. Not only will being in a group help motivate you, these types of classes are usually set to upbeat music that helps the time pass quickly.
Don't skip the warm-up
If you're especially anxious to get back to a routine and see results, it may be all too easy to think that you're better off skipping a warm-up and spending your whole hour at the gym on a hard workout.  A proper warm-up is not only essential to your safety, it actually leads to a much more beneficial workout! That's because a warm-up prepares your body for the exercises you're about to do, loosens up your muscles and joints so you don't pull or sprain something, and gets your heart rate going. This means that by the time you actually get to your workout, you're already burning calories and stoking your metabolism.
It's also really important to realize that walking from your car to the treadmill doesn't count as a proper warm-up. If you aren't sweating at least a little bit or breathing hard by the end of your warm-up, you aren't ready for the really heavy lifting. A good warm-up routine might consist of foam rolling (especially if you're sore from a prior workout), dynamic stretches (those done with movement, like walking toe taps and jumping jacks), and bodyweight exercises that mimic the movements you'll be doing during your workout. For example, you might add high knees and butt kicks to your warm-up routine to prepare for a run or add some bodyweight squats to prepare for leg day.
Make sure you fuel properly
What's the use of a good workout routine if you aren't eating properly? If your goal is to lose weight, nutrition is an integral part of that, and poor nutrition can easily undo all your hard work in the gym. Nutrition isn't just important if you're trying to lose weight; it's also important to make sure you're eating enough and drinking enough water to safely fuel your workout. If your workouts are making you dizzy or lightheaded, you are either dehydrated or not eating enough prior to your workout.
Just like fueling beforehand is important, eating for muscle recovery should also be a priority. Try to eat something with protein within an hour of your workout. This is the period during which your muscles can utilize the protein most effectively to repair and rebuild. Abs aren't the only muscles built in the kitchen.
Don't beat yourself up
Getting back into a workout routine isn't easy. Even if you start slow and have a workout buddy, there may be days when you give in to the call of the couch. The worst thing you can do on these days is beat yourself up and decide that it just isn't worth it. Give yourself a little wiggle room and cut yourself some slack, especially early on. Don't let missing a single day take the steam out of your engine!
Anyone who's tried to lose weight knows that good nutrition matters a lot—even more than your exercise routine. As the authors of a recent editorial in the British Journal of Sports Medicine wrote, "You cannot outrun a bad diet." In other words, even a calorie-torching fitness plan needs to go hand-in-hand with healthy eating or you won't see the results you want.

But that doesn't mean you have to restrict yourself to bland "diet" foods. We asked seven women who've lost 50 pounds or more to share their go-to healthy meals, and the results were surprisingly appetizing—even bacon and chocolate make a cameo! Here are the foods that helped these women find long-term success.
JODI FRIEDMAN
Jodi, 44, had struggled with her weight due to polycystic ovary syndrome (PCOS) and insulin resistance. But after a nutritionist helped her devise a low-carb, high-protein eating plan, she lost 70 pounds and is now training for a half marathon. "It's important to find a nutritionist who understands your health issues and supports your needs," she says.
A typical day's meals:
Breakfast: a protein bar with 20 grams of protein or more, plus a banana on workout days
Lunch: tuna salad with a side salad of mixed greens and tomatoes with aged balsamic vinegar
Snack: cucumber slices with a tablespoon of hummus
Dinner: salmon or crockpot chicken with a side of spinach or avocado
Dessert: kid-sized cup of frozen yogurt
JENNIFER FINNEY
Motivated by a warning from her husband's doctor, Jennifer, 41, and her hubby overhauled their eating habits together. "We went from a diet of processed foods, fast food, and dining out two or three times a week to a whole-food, plant-based diet," she says. "We went all-in from day one, and the weight started melting off." To date, she's lost 80 pounds and now works as an online health and fitness coach.
Breakfast: rolled oats with almond milk, peanut butter, and pure maple syrup
Post-workout snack: green smoothie with spinach and frozen fruit
Lunch: kale salad with hummus and rice vinegar, topped with fresh cucumbers, red peppers, and chickpeas or lentils
Afternoon snack: apples with peanut butter
Dinner: a Pad-Thai inspired dish using spaghetti squash instead of pasta
After-dinner snack: a piece of fruit
PETRINA HAMM
Petrina, 43, started the Atkins diet because her sister was interested in the plan. "She asked me to do it with her for support," she says. Petrina eventually modified her diet for more balance, and has lost a total of 100 pounds. She says the key has been "taking it one day at a time. Too many people devote too much focus to the end game."
A typical day's meals:
Breakfast: a healthy "cheese Danish"—made by mixing egg with cream cheese, liquid Splenda, and a dash of cinnamon—along with bacon or sausage
Lunch: salad with full-fat blue cheese dressing, bacon bits, and diced chicken
Dinner: steak with steamed broccoli and butter
Snack: homemade sugar-free peanut butter cup (made with baking chocolate, butter, liquid Splenda, and peanut butter)
WHITNEY HERRINGTON
The approach of a milestone birthday motivated Whitney, 29, to get serious about her eating habits. "I had been overweight my whole life, and I was determined not to go into my thirties fat!" she says. By following a low-carb, high-protein diet—with some extra carbs added in on workout days—she's lost 65 pounds so far.
A typical day's meals:
Breakfast: fruit smoothie with some spinach or kale and a scoop of protein powder
Snack: granola bar
Lunch: jerk chicken with homemade cauliflower rice
Dinner: baked chicken with broccoli and brown rice
Snack: ¼ cup of peanuts or cashews
ERICA HOUSE
Erica, 32, found that a little patience goes a long way. She lost 60 pounds over the course of two years by cutting out fast food, sugar, and liquid calories like soda and alcohol."The weight came off slowly, but it's stayed off," she says. "I went from being obese, binge drinking, and chain smoking to a three-time marathoner, yoga instructor, and online personal trainer."
A typical day's meals:
Breakfast: zucchini oatmeal
Snack: fresh fruit
Lunch: homemade burrito bowl
Snack: a scoop of peanut butter
Dinner: protein smoothie made with a frozen banana, a cup of spinach, chocolate whey powder, almond milk, ice, and a touch of honey
ANNE JONGLEUX
Anne, 56, tried a few tactics before finding what worked best for her. She started by weighing foods and counting calories: "That was great for helping me readjust my ideas of portion size, but impractical for a daily lifestyle," she says. Last year she went on an elimination diet to identify food intolerances. Now she follows a "mostly Paleo" plan of lean proteins, healthy fats, and fresh produce, and she's lost a total of 80 pounds.
A typical day's meals:
Pre-workout breakfast: coffee and a banana or two dates covered in coconut
Post-workout breakfast: coffee, a bowl of fruit, and two poached eggs
Lunch: an apple with two tablespoons of almond butter and a few sticks of celery
Snack: a stalk of bok choy and a carrot
Dinner: Cobb salad with a few tweaks (turkey instead of ham and bacon; hold the cheese and croutons; oil and vinegar on the side)
Snack: cucumber slices or pickles
CHRISTIAN OHONBA
Christian, 30, says she stopped using food as a reward and started thinking of it as fuel for her goals. "I live with the philosophy that weight loss sparks greatness in all areas of life," she says. Though she was scared to look at a scale before starting her weight loss journey, she estimates she's lost around 70 pounds by tracking calories and journaling her eating habits.
A typical day's meals:
Breakfast: salmon and potato hash
Snack: pineapple dairy-free yogurt
Lunch: burrito with ground turkey, black beans, and bell peppers
Snack: tuna packet
Dinner: steak with broccoli
SOURCE: WOMEN'S HEALTH MAGAZINE
Shape, tighten and lift your butt in just eight moves with this focused resistance workout from fitness model Janine Horsley.
Warm-up (not pictured)
This dynamic warm-up will prepare your body for key moves. Consider it an investment.
2–3 minutes: (20 seconds each)
Begin with high knees, running in one place for 20 seconds. Followed with butt kickers, with heels kicking back to touch your butt, for 20 seconds. Lastly, fully extend arms and legs in a marching position. Perform jumping marches by jumping in sequence with arms and legs forward and back.
THE WORKOUT
1. Dumbbell step ups (10 to 20 lbs)
3 sets x 12–15 reps (20 seconds' rest)
Start movement holding dumbbell at chest level with elbows tucked in. Place one leg on a platform or bench and thrust up on to bench. The key to this movement is pushing off with the opposite toe on the floor before lifting and keeping weight on the heel on the bench when stepping down. Perform all the reps on the one side before switching legs.
2. Kettlebell Overhead Squats (10 to 15 lb)
3 sets x 12 reps (30 seconds' rest)
Start movement holding a kettlebell with both hands at waist level. When you are ready, engage core, lift kettlebell above your head, and squat parallel to the floor. The key to this movement is engaging the stomach and locking the arms overhead and exhaling as you power up through the squat. Perform with toes slightly pointed out, shoulder-width apart. Keep the arms fully extended above your head until you have completed all the reps for that set.
3. Kettlebell Crossover Reverse Lunge (10 to 12 lb)
3 Sets x 10 reps (30 seconds' rest)
Start movement holding a kettlebell at chest level with both hands. Be sure to keep elbows tucked at sides. As you begin, take one leg back into a reverse lunge position in a 45-degree angle while maintaining an upright squat position. The key to this movement is an upright position and slowly crossing your leg in a reverse lunge while dropping the knee in a straight line down. Be sure to cross slowly to maintain your balance throughout the movement.
4. Dumbbell Stiff-Legged Deadlift (20 to 30 lb)
3 sets x 12 reps (30 seconds' rest)
Start movement with dumbbells at waist level. Maintain a good posture with a slight bend in the knees and slowly lower the weight to the front of your calves, and return to the top of your thighs. The key to this movement is a flat back and slow and steady lowering of the weights.
5. Dynamic Speed Skaters (5 to 10 lb)
3 sets x 45-to-60-second intervals (with 30 seconds' rest)
Start movement with one foot forward and one foot back. As you start in motion, hop into a side lunge position, then spring off and do the same to the other side. The key to this movement is not speed, but balance and coordination.
6. Hamstring Ball Bridge (Body weight)
3 sets x 30-second intervals (with 20 seconds' rest)
Start movement lying flat on your back with your heels resting on the top of the balance ball. As you push down on the ball with your heels, pull the ball towards you and lift your hips straight up, and then slowly bring them down and let the ball move back to the starting position. The key to this movement is keeping your shoulders flat on the ground and squeezing the glutes as you lift the hips. Slow and steady is the game.
7. Cable Kickbacks – 2 sets x 12–15 reps each leg
(20 seconds' rest)
Attach the ankle loop to your ankle. Maintain an upright position with your upper body. Grab the sides of the cable machine, and thrust your leg back, no higher than your waist level, and slowly bring it back with a slight knee bend forward to finish. The key to this movement is slowly squeezing the glutes as you thrust the leg back.
8. Smith Machine Standing Calves 3 sets x 15–20 reps 
(20 seconds' rest)
Start movement with Smith machine bar on your shoulders. Stand on a platform or step to raise and lower your calves. The key to this movement is a slow and full stretch on your toes and lower your heels to get the full benefit of the stretch. It is not about the weight, more the stretch and a slight pause at the top of the movement.
Waist trainers are HOT these days! With so many celebs jumping on board the craze, waist training has taken a front seat all over social media and TV.
Now, if you know me, you know that I am against waist training. As a trainer,  I am a BIG advocate for using science-backed methods like strength training and nutrition to cinch the waist.
With that said and after many of months of hearing about waist trainers,  I've decided it's time to demystify the hype around these things!
The Truth About Waist Trainers: What Are They?
Waist trainers are essentially girdles made of fabric worn around the torso for long periods of time (up to 24 hours of each day). Exactly as their name implies they are meant to "train" your waist so it "shrinks and reshapes". The idea is to pull the waist trainer in every few days in hopes of reshaping your waist into a smaller version of it. Waist trainers are typically made of heavy fabric or leather… some come with laces that are pulled in tighter every few days.
These days, you cannot scroll through your social media without seeing at least one post about "waist trainers".  Thanks to celebrity endorsements, waist trainers have become increasingly popular and trendy!
What's The Hype And Is It Too Good To Be True?
Waist trainers promise to "cinch the waist", give you an "hourglass figure", "shrink your waistline" and get rid of belly fat… all without the hard work of exercising or dieting! WOAH!!! Sounds AWESOME right? Wear a fabric thing around your waist real tight and get a flat stomach? Sign us up! I am SOLD!
The truth is waist training can permanently shift your organs!
Unfortunately, the hype around these products are very much, well, hyped up and too good to be true! Let me tell you, it's next to IMPOSSIBLE to shrink or reshape your waist WITHOUT a proper nutrition and exercise program! Or without some sort of surgical intervention! Why? Because the science simply does not add up!
The human body has its own natural girdle… and you guessed it, it's called MUSCLE! Our organs are surrounded by tissue, including the transverse abdominus, the rectus abdominis, the internal and external obliques, erector spinae and lumbar muscles in the lower back. There are lots of hard muscles at work keeping us upright and everything together!
It just so happens that we also have another type of tissue called fat covering the muscles. You cannot change the shape of your torso or waist simply by wearing a piece of fabric around it. Nor can you reduce the amount of fat cells or fat tissue in your body by wearing a piece of very tight fabric. Science just doesn't work that way!  In fact wearing such things can be dangerous as it suffocates your organs and can cause heat stroke, and a permanent unhealthy shift in your organs. In order to shrink your fat cells, you need to build lean tissue to stimulate your metabolism and adapt a healthy eating regimen that reduces fat tissue!
Wearing waist trainers also undermines your muscles as you inherently start relying on it to keep your core engaged as opposed to properly engaging your abdominal muscles when working.
Is There A HEALTHY Way To Cinch Your Waist?
My best advice for those of you looking to cinch in your waist is to start exercising using a solid plan (like the Elite Fitness Pros programs) and eat well! Learn how to properly engage your core muscles! Adapt a healthy nutrition plan and last but not least be CONSISTENT! It's that or permanent surgical intervention like removing two ribs from torso!
Simply put, forget the hype around waist trainers! Choose to hit the gym with a good workout program and eat well … soon enough you WILL see a smaller waist!